June 2009 Slap Yo Daddy BBQ 101 – Pitmaster Class, Diamond Bar, CA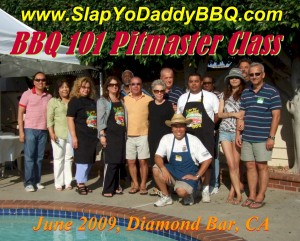 Fourteen students attended the June 27, 2009 Summer Series BBQ 101 Pitmaster Class held in Diamond Bar, the home of the Grand Champion Slap Yo' Daddy BBQ team.   This was a hands on class and everyone had a great time learning how to be a certified Pit Master!
We cooked half chickens, thighs, spareribs, St. Louis ribs, rib tips, tri-tip, bone-in pork butt, Heritage Kurobuta pork, Certified Angus brisket, Kobe Brisket, Hebrew International salami, Mango jalapeno sausages, coleslaw, BBQ beans, and hot links. The Bobby Flay audition Ahi Tuna w Maui Onion dressing was yummy too. Everyone was in a food coma after the Giganto Stupendomundo buffet lunch.  We cooked chicken and ribs in the afternoon and everyone went home full with lots of leftovers!
Get New Updates by Email: