BBQ British Sheppard's Pie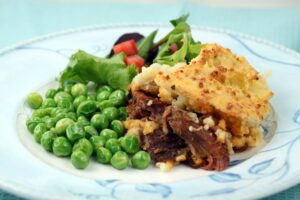 In early 2012, Scott and Lindz Lane, of Miss Piggy's BBQ team in the UK met me through Benny Adauto, my former SYD assistant, who lent them equipment to compete in the Ultimate BBQ Showdown East v West in Wildomar, near San Diego, in April 2012.  I met them together with Benny for lunch in downtown Los Angeles and the conversation drifted towards whether I was willing to teach to increase the popularity of American BBQ in the UK since many had watched TLC's BBQ Pitamasters Season One which we were in.  Scott subsequently introduced me to Toby Shea, the director of the British BBQ Society, and we hit it off right away.  In July 2012, I'll be headed to teach in the London area and compete in the UK!
To celebrate this opportunity, I planned to cook a British dish in my UK class.   One of the most traditional British dishes is a classic dish called Sheppard's Pie which is cooked lamb topped with mashed potatoes and then baked.   In the US, we do something similar using ground beef and although it's called Sheppard's Pie, it is really Cottage Pie according to British convention.   To add a BBQ pitmaster's twist, I decided to barbecue the lamb before making the pie.  After the lamb is cooked and cooled, you shred the lamb with your fingers and mix it with a mire pox of onions, celery, and carrots.  Transfer to an oven-safe casserole and top with your mash and bake for about 25 minutes.  Serve with English peas.  I prefer my peas el dente but I was informed by Eric, an English butcher in Los Angeles, that the peas should be cooked until they are mushy and no longer green.  Do your peas your way!
Pages: 1 2
Get New Updates by Email: