2017 Giveaway – Snake River Farm's King of Steaks Package

I've partnered with my friends at Snake River Farms to give away this King of Steaks Package
There will be 1 winner1 for this Snake River Farm giveaway.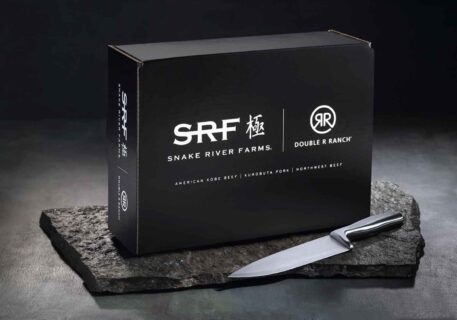 Snake River Farms – King of Steaks Package
This package contains:
2 American Wagyu Black Grade T-Bone Steaks – Can't decide between a New York strip steak and a filet mignon? You can have both of these premium cuts in a single Snake River Farms American Wagyu T-Bone Steak. Cut from the short loin, these thick-cut steaks are flavorful and delicious. These American Wagyu beef steaks are highly marbled, packed with rich beef flavor and equally at home on the grill or butter-basted in a cast iron skillet.
2 American Wagyu Gold Grade Sirloins (10 oz) – Snake River Farms Gold Grade Top Sirloins have a greater amount of marbling than other sirloin steaks, which makes these unique cuts intensely flavorful and rich with beefy taste. These steaks have the firm texture associated with the sirloin cut, but feature the same delicious essence of Japanese Wagyu beef.
1 American Wagyu Black Grade Cap of Ribeye – Is it possible to have a product in smaller supply than the Snake River Farms Cap of Ribeye? Yes, it is. Introducing the Gold Grade Cap of Ribeye. Gold Grade features the highest level of marbling available from Snake River Farms. The Gold Grade Cap of Ribeye has an even higher amount of inter-muscular fat to take an already decadent cut of beef to an extreme level. The cap of ribeye is regarded by true beef connoisseurs as the most desirable cut of American Wagyu beef. This luxurious steak is also called the ribeye cap, deckle steak, calotte or spinalis dorsi and refers to the small portion of beef (or cap) that surrounds the center of a ribeye roast.
1 American Wagyu Black Grade Flat Iron – The flat iron steak is not well known, but has long been a favorite of butchers and beef experts due to its uniform size and delicious taste. It's sometimes called a top blade steak and comes from the shoulder or chuck. The Snake River Farms flat iron features intense marbling and a robust beef flavor that stands on its own or marries perfectly with your favorite rub or marinade. Sliced thin against the grain and placed on a bed of greens, the flat iron makes a fresh and savory summer meal. This "steak ready" cut weighs approximately one pound and a half, is trimmed and ready for the grill or skillet.
1 Jacobsen Salt Packet (4 oz)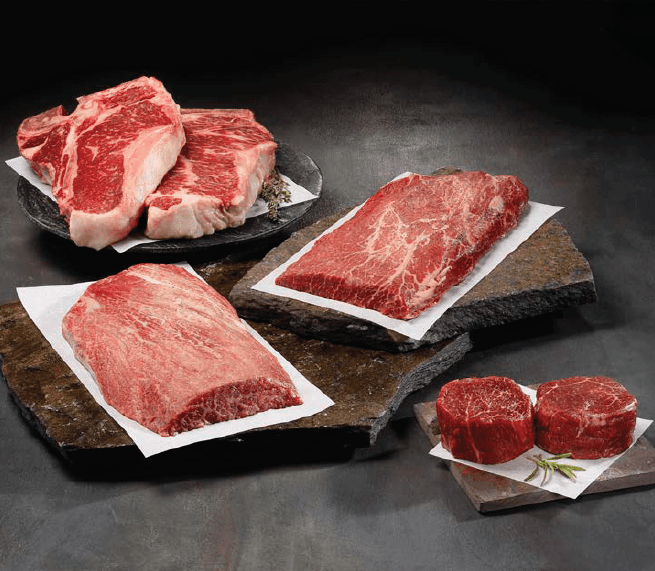 Eligibility: United States only. Last Day to enter for this Giveaway: June 17, 2017 11:59 pm PST. Winner will be randomly selected and contacted via email on June 18, 2017.  Giveaways are open to registrants 18 years or older with a U.S. shipping addresses only. For Slap Yo' Daddy BBQ 's international friends, you may enter and if you win, we will be more than happy to send the prize to a person of your choice with U.S. shipping address. No purchase necessary to enter or win.
Winners have 48 hours to claim their prize, if not claimed within 48 hours, an alternate winner will be drawn at random. Anyone with a valid email address can enter each giveaway once a day everyday for the duration of the Giveaway.
Employees of Slap Yo' Daddy BBQ, their advertising or promotion agencies, those involved in the production, development, implementation or handling of Giveaways, any agents acting for, or on behalf of the above entities, their respective subsidiaries, affiliates, licensees, service providers, prize suppliers any other person or entity associated with the Giveaways (collectively "Giveaway Entities") and/or the immediate family and household members (whether related or not) of each such employee, are not eligible.
Please see Giveaway Rules for more details.
The prize is proudly sponsored by Snake River Farms
Previous winners of this giveaway are not eligible to win this giveaway twice.
If your entry is successfully submitted, you will be redirected to the "Thank You" page.


Get New Updates by Email: