2017 Summer Giveaway – Smoker/Cooker Load with smoking wood and firestarters

I've partnered with my friends at Diamond King Smoker to giveaway this Smoker/Cooker load with smoking wood and firestarters.
There will be one (1) lucky winner who will receive this giveaway.
Ideal for BBQ lovers across the country, DiamondKingSmoker in Rosemount, Minnesota offers a smoker/cooker box that turns any grill into a smoker; this produces all the heat and smoke.
Retail suggested price: $75.00

DiamondKingSmoker Smoker Box is an INNOVATIVE BBQ smoking accessory that will turn any grill into a meat smoker. The DiamondKingSmoker is 100% Stainless Steel and sits right on the grate of your grill or in your smoker. Using the DKS Wood Chunks and Mini-Splits that are available in up to 24 different wood species you can smoke like the Pro's and be the envy of your neighborhood. No more flare up and uneven heat the DKS solves it all. This will enhance the flavor of your meat and make your BBQ a more flavorful and enjoyable event. No reason to have both a BBQ Grill and Smoker any longer as this INNOVATIVE takes car of it all. Just remember to use the DKS Fire Starter as it is fail prove. They do not recommend any other fire starter!! The DKS – 6×12 has 12 precision cut and placed holes to create the perfect heat and smoke. If you want the maximum heat leave the holes as designed. If you want a lower heat simply put Stainless Steel hole plugs in the larger holes on the the side of the smoker box. The less air going in the lower the heat value. Simply put one DKS – Sure Fire Starter in the center of the box surround it with DKS Chunks or Mini-Splits. Light the starter; which will only take 3 seconds, place the lid on the smoker box. Close the cover on the grill and enjoy your best BBQ experience ever.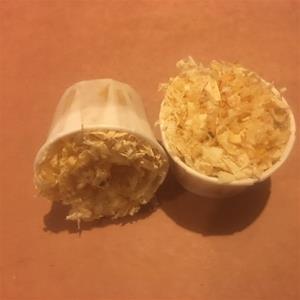 Whether it's used to start your smoker, or for a fire pit, fireplace, or bonfire, Diamond King Smoker's fire starter has 15 minutes or more of guaranteed burn. One piece does it all. It burns harder and is guaranteed to light immediately. This 1 ½ in. by 2″ in. round fire starter is ELITE for starting in most any situation. The BEST FireStarter available.
DKS smoker box is easy to use. Follow these instructions:
• Place Food On Grill
• Place Box With Cover Off On the Grill
• Place One Fire Starter In the Center Of Smoker Box
• Surround the Fire Starter With Your Favorite Fruit Wood
• Use a Fireplace-Style Lighter To Light the Fire Starter
• Put the Cover On the Smoking Box
• Close the Lid Of Your Grill and Smoke To Recommended Temperature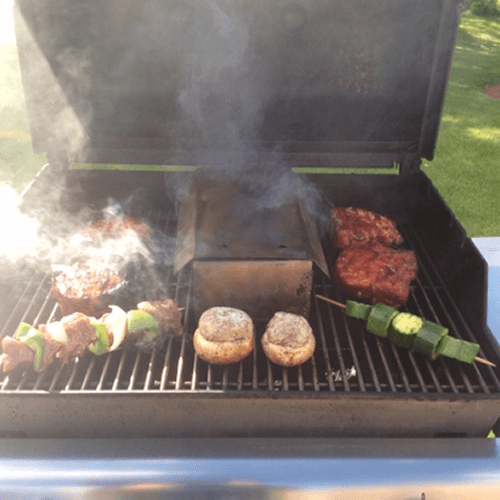 Eligibility: United States only. Last Day to enter for this Giveaway: July 29, 2017 11:59 pm PST. Winner will be randomly selected and contacted via email on July 30, 2017.  Giveaways are open to registrants 18 years or older with a U.S. shipping addresses only. For Slap Yo' Daddy BBQ 's international friends, you may enter and if you win, we will be more than happy to send the prize to a person of your choice with U.S. shipping address. No purchase necessary to enter or win.
Winners have 48 hours to claim their prize, if not claimed within 48 hours, an alternate winner will be drawn at random. Anyone with a valid email address can enter each giveaway once a day everyday for the duration of the Giveaway.
Employees of Slap Yo' Daddy BBQ, their advertising or promotion agencies, those involved in the production, development, implementation or handling of Giveaways, any agents acting for, or on behalf of the above entities, their respective subsidiaries, affiliates, licensees, service providers, prize suppliers any other person or entity associated with the Giveaways (collectively "Giveaway Entities") and/or the immediate family and household members (whether related or not) of each such employee, are not eligible.
Please see Giveaway Rules for more details.
The prize is proudly sponsored by Diamond King Smoker
Get New Updates by Email: