2017 End of Summer Giveaway – Classic Thermapen from ThermoWorks

I've partnered with my friends at ThermoWorks to give away the Classic ThermaPen
The Super-Fast Thermapen is a professional tool (originally designed for commercial kitchens, labs and manufacturing plants) that has become the top consumer cooking thermometer for home use. Its popularity among celebrity chefs, cooking magazines, top foodies, bloggers and competition BBQ teams has made the Thermapen into an essential tool in the best-equipped home kitchens and backyard BBQ rigs.
There will be 1 winner selected for this Giveaway

Made by Hand in England, the Thermapen is faster and more accurate than any other cooking thermometer on the market. Competitors have tried to copy the Thermapen with mass-produced products made in China and have flooded the housewares market with slower, less-accurate knock-offs. However, when compared to true competing commercial thermocouple thermometers, the Thermapen is not only faster and more accurate, it's also less expensive!The Thermapen's speed and accuracy will reveal more about food and cooking techniques than you ever imagined. You'll learn that temperatures are always changing; a roast is never the same temperature throughout while cooking. If you want to know what's really going on, get a Thermapen.If you want to experience speed and precision (traceable to National Standards) and you're on a quest for culinary perfection, you will want a Thermapen. Add up the expense of wasted meats alone and you'll justify the cost of this professional tool.A Thermapen can be used for virtually anything that needs to be cooked or chilled. Use it on meats, fish, casseroles, re-heated foods, breads, cakes, deep frying and candy. You don't have to have a Thermapen to be a great cook; however, more than one celebrity chef and several food writers have testified that a Thermapen will make you a better cook…AND, you can choose your own color! Order one today.
I've used them since 2008 (I have three) and have won 27+ Grand Championships with them.  My favorite color is orange as that's my winning color.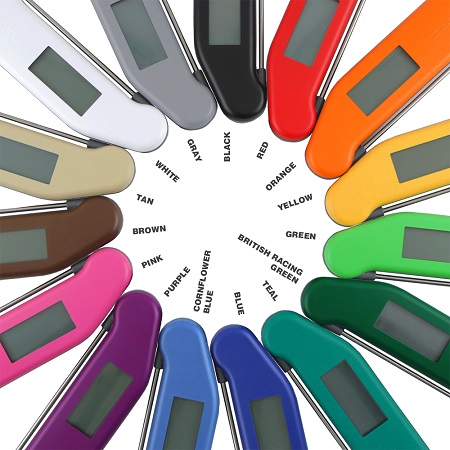 Eligibility: United States only. Last Day to enter for this Giveaway: Sept 23, 2017 11:59 pm PST. Winner will be randomly selected and contacted via email on Sept 24, 2017.  Giveaways are open to registrants 18 years or older with a U.S. shipping addresses only. For Slap Yo' Daddy BBQ 's international friends, you may enter and if you win, we will be more than happy to send the prize to a person of your choice with U.S. shipping address. No purchase necessary to enter or win.
Winners have 48 hours to claim their prize, if not claimed within 48 hours, an alternate winner will be drawn at random. Anyone with a valid email address can enter each giveaway once a day everyday for the duration of the Giveaway.
Employees of Slap Yo' Daddy BBQ, their advertising or promotion agencies, those involved in the production, development, implementation or handling of Giveaways, any agents acting for, or on behalf of the above entities, their respective subsidiaries, affiliates, licensees, service providers, prize suppliers any other person or entity associated with the Giveaways (collectively "Giveaway Entities") and/or the immediate family and household members (whether related or not) of each such employee, are not eligible.
Please see Giveaway Rules for more details.
The prize is proudly sponsored by ThermoWorks
Previous winners of this giveaway are not eligible to win this giveaway twice.
If your entry is successfully submitted, you will be redirected to the "Thank You" page.

Get New Updates by Email: