2017 Holiday Giveaway – Thermoworks Timestick

I've partnered with my friends at ThermoWorks to give away this Timestick
One hand use, pocket sized, count down, count up and clock, 9 colors, splash proof, count-down bar graph, include neck lanyard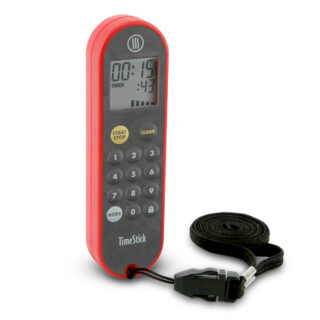 Directly set your time, with one hand, on the Splash-proof numeric keypad. We've made operation as simple as can be. After your first use, throw away the instructions. The count-down bar graph gives you a quick indicator of remaining time. When a count-down alarm sounds, the count-up timer starts so you will see how much time elapses after your alarm. The clock is settable in 12 hour or 24 hour formats.
Other pocket timers are flimsy, hard to set, or have weak beepers. TimeStick's rubberized front panel survives wet fingers and the durable housing will last for years in professional use. Designed as a personal timer, the beep is plenty loud for you to hear but won't stop traffic outside. Conceived in ThermoWorks' design studio, TimeStick comes in 9 colors so you'll instantly know who swiped yours. Set the keypad lock to prevent accidental button presses when in your pocket.
Eligibility: United States only. Last Day to enter for this Giveaway: Nov 11, 2017 11:59 pm PST. Winner will be randomly selected and contacted via email Nov 12, 2017.  Giveaways are open to registrants 18 years or older with a U.S. shipping addresses only. For Slap Yo' Daddy BBQ 's international friends, you may enter and if you win, we will be more than happy to send the prize to a person of your choice with U.S. shipping address. No purchase necessary to enter or win.
Winners have 48 hours to claim their prize, if not claimed within 48 hours, an alternate winner will be drawn at random. Anyone with a valid email address can enter each giveaway once a day everyday for the duration of the Giveaway.
Employees of Slap Yo' Daddy BBQ, their advertising or promotion agencies, those involved in the production, development, implementation or handling of Giveaways, any agents acting for, or on behalf of the above entities, their respective subsidiaries, affiliates, licensees, service providers, prize suppliers any other person or entity associated with the Giveaways (collectively "Giveaway Entities") and/or the immediate family and household members (whether related or not) of each such employee, are not eligible.
Please see Giveaway Rules for more details.
The prize is proudly sponsored by ThermoWorks
Previous winners of this giveaway are not eligible to win this giveaway twice.
If your entry is successfully submitted, you will be redirected to the "Thank You" page.
Get New Updates by Email: