2018 Giveaway – ChefAlarm from ThermoWorks – CLOSED

Winner of this Giveaway is Ryan K. of Wilmington, DE
I've partnered with my friends at ThermoWorks  to giveaway their ChefAlarm. There will be 1 winner for this giveaway.
The folks who brought you the Super-Fast Thermapen, ThermoWorks, introduces the latest innovation in oven thermometers – ChefAlarm! Designed for commercial use, and loaded with features not found in "houseware" cooking alarms, ChefAlarm is the new "go-to" thermometer for continuous monitoring of meat temps on the grill, smoker, or in the oven.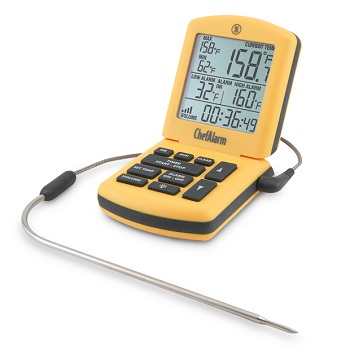 ChefAlarm includes unit, 6-inch Pro-Series High Temp Cooking Probe with 47-inch cable, SS Probe Clip, Operating Instructions, and Padded Zip Wallet that neatly holds everything.
Harry's Impression of the ChefAlarm
ThermoWorks has a new product out and they asked if I would test it for them.  Being that I never arrive at a BBQ contest without my trusty ThermaPen, I said sure! The Chef Alarm is an amped up version of the ThermaPen for the home cook but with pro-level performance.  It is a handheld device with a display that can be tilted up for easy reading.  It has a timer and temperature probe.
You can set the temperature alarm to a high or low setting.  That is, if you want to know when your brisket has reached 200F, just set the temp to 200F and insert the probe. The ChefAlarm will alarm when the meat has reached your desired temperature.  It also has a low setting for knowing when your meat has reached a safe temperature to handle or hold.   There is also a min and max temperature reached in case you forget what your starting meat temp or final meat temp were. The timer can count up or count down which is a really nice feature and the display can be back-lit for when you are outdoors starting that late night cook.  As my eyesight is not that great, the large digits and backlight make it easy to read. The alarm has a volume setting if you need it.  There are two probes, one for the oven and one for liquid immersion. The regular probe can withstand temperatures up to 700F which is nice because I can put the probe inside my oven at home and not worry about it.  The immersion needle will also work but has the added advantage of being water-proof and is thinner so it is even faster.
 If you don't happen to win one in my Giveaway, go get yourself one in any of the 9 colors because overall, it's a great product and for the price of $59, it's a steal.
Eligibility: United States only. Last Day to enter for this Giveaway: February 24, 2018 11:59 pm PST. Winner will be randomly selected and contacted via email on February 25, 2018.  Giveaways are open to registrants 18 years or older with a U.S. shipping addresses only. For Slap Yo' Daddy BBQ 's international friends, you may enter and if you win, we will be more than happy to send the prize to a person of your choice with U.S. shipping address. No purchase necessary to enter or win.
Winners have 48 hours to claim their prize, if not claimed within 48 hours, an alternate winner will be drawn at random. Anyone with a valid email address can enter each giveaway once a day everyday for the duration of the Giveaway.
Employees of Slap Yo' Daddy BBQ, their advertising or promotion agencies, those involved in the production, development, implementation or handling of Giveaways, any agents acting for, or on behalf of the above entities, their respective subsidiaries, affiliates, licensees, service providers, prize suppliers any other person or entity associated with the Giveaways (collectively "Giveaway Entities") and/or the immediate family and household members (whether related or not) of each such employee, are not eligible.
Please see Giveaway Rules for more details.
Previous winners of this giveaway are not eligible to win this giveaway twice.
Get New Updates by Email: