Bacon-wrapped Pineapple Mozzarella Rings (a.k.a. Bacon Donuts)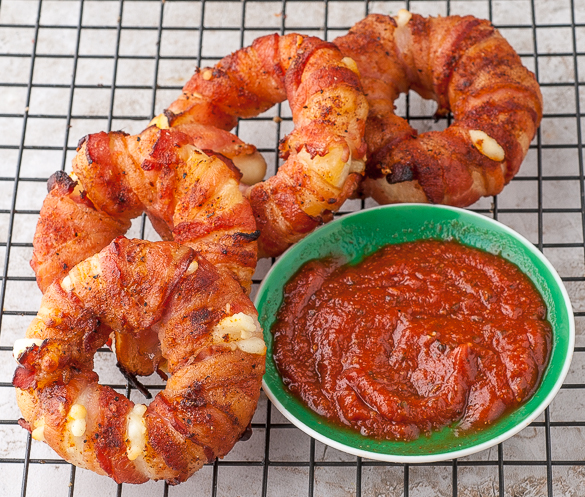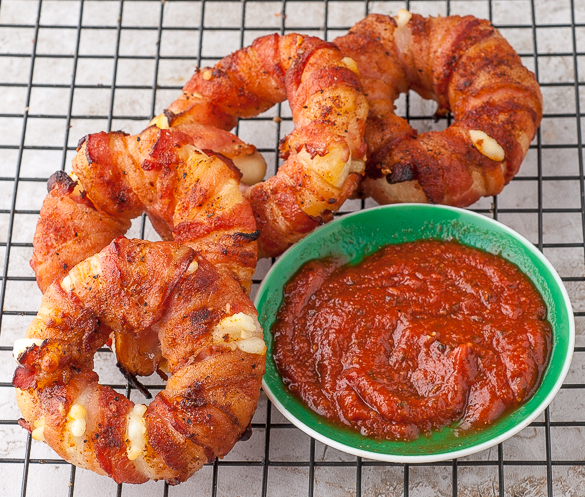 Bacon-wrapped Pineapple Mozzarella Rings (a.k.a. Bacon Donuts)
It's no secret that I absolutely adore bacon. When you sleep and dream about your vacation, I dream of a bacon vacation where I get to devise delectable baconventions. In my prior recipe blogs, I've put in it in my
apple pie
,
meatloaf
,
breakfast fatty
,
buffalo turds
,
pig candy
, and even
bacon weave animals
. Every month, I eagerly await a bacon surprise when my Bacon of the Month club (a gift from Janet and Hank) sends me a random artisan bacon package.
As a bit of trivia, when I first moved to Los Angeles in the mid 80′s after
Texas Tech
to attend
Cal Poly Pomona
, I had a fun stint at an American pizza chain (rhymes with a tile board game) as a delivery driver. After the dinner-hour crush, extra pizza drivers were sent home. Rockin Robyn, the store manager, would often keep me as a late night driver when the orders slowed down. During these slow periods, she taught me how to make pizzas. I learned that the pizza chain had pizza making contests among company employees. I was intrigued. I eventually became fast enough to make a large Pep pizza with the 40 pieces of pepperoni in under 27 seconds. It was a formative moment when I realized that I loved to compete. The clock starts from taking the dough mound out of the bin, stretching and spinning the dough in the air, placing it on the wire-mesh pan, spreading sauce and cheese evenly, and adding pepperoni slices with no "stacking" or gaps. The time counts only after it's inspected for quality by the manager and it must be perfect to company specifications. I was being groomed as one of the store's submissions for their regional contest.
Unfortunately, fate intervened as I received a career-starting job offer in Orange County and left. I sometimes reminiscence that if I had stayed, perhaps I could have been a pizza making champion? Maybe that's the genesis that fueled my barbecue passion 30 years later.
So how's this pizza making related to this recipe? One of my favorite pizzas during my pie-making days was the Hawaiian pizza with extra cheese. The gooey mozzarella melting into the salty Canadian bacon was delicately balanced by the fruity sweetness of the pineapple chunks. As a no-budget student, I would purchase a few of these with my employee discount, portion them up in plastic wrap, and savor them as meals over several days. My love for bacon wrapping has migrated to the pizza and the barbecue pit. Replace the Canadian bacon with regular bacon, keep the mozzarella cheese, and omit the crust. Voila! Bacon-wrapped Pineapple Mozzarella Rings! One problem to solve was how to hold the mozzarella in place while you wrap the bacon. After considering and failing using numerous options (toothpicks, PVC ring, meat glue, etc.), the easiest and best tasting option was to hold the mozzarella in position by cradling the cheese slices in an onion "bowl" while you wrapped the bacon.
So read on and watch the step-by-step pictures on how to recreate this delectable gem for your family and friends. It goes great with some marinara sauce. Tell your friends and send me pictures of your creations. Be patient when you make it as it takes time to perfect the Zen of Bacon Threading (consider it an act of bacon love!). I had to wrap a half dozen rings before I got the hang of it. Don't wear gloves when you do this as you need nimble fingers to thread the bacon through the hole in the pineapple. Be gentle not to break the pineapple. Use a sweet onion like a Vadalia or Maui onion. Save the other pieces of onion you don't use for another dish. Let the bacon come up to room temperature so it's more pliable and easier to work with. Use bacon that has alternating layers of fat and meat and avoid bacon that has only bands of fat. You can cook the rings in your pit (I used a Weber Kettle) for better flavor or it works just as well in an oven on a mesh rack.
Ingredients
16-24 slices of bacon
1 can of sliced pineapple rings (we need 8 rings)
8 mozzarella string cheese sticks
2-3 large sweet yellow onion, cut into ⅓ inch rings
Instructions
Peel and cut the large onion into ⅓ inch slices.
Open the can of pineapple slices, drain the juice and set aside 8 slices.
Match the onion rings to the size of the pineapple slices—choose rings that have more of a bowl shape to help hold the string cheese in place.


Tear the mozzarella string cheese in half.

Place one half of the mozzarella in the onion ring and cut the other half to fill in the remaining gap. Place the cut piece filling in the gap.

Stack the mozzarella lined onion ring on the pineapple and start wrapping with bacon slices. Use two to three slices of bacon per ring. Just take it slow and keep it all in place and it will eventually wrap—sometimes it takes some repositioning or re-stuffing of string cheese into ring.

Once all wrapped, sprinkle on some SYD meat rub to your liking.

Start up the Weber kettle (or your grill of choice) and cook indirect at 400F for 30 minutes.

Optionally glaze with your favorite sauce.
Let cool down for a few minutes before serving.
Serve with your favorite dipping sauce, such as marinara.
Enjoy!

One example: unglazed served with marinara dipping sauce.
Get New Updates by Email: