BBQ Classes

BBQ Class Schedule
2021 Schedule



The cost of each class is $429 per student.
Each class is limited in size (14 max) as this is a hands-on class with one-on-one guidance.
Classes are geared for adults and the minimum student age is 18 years

Class runs from 7:45 am – 2:30 pm (see below for Class Details)
You do not have a spot in a class until you have received a BBQ Class Confirmation email. The email confirmation comes after we have received your registration form and payment.
CLICK HERE TO REQUEST A REGISTRATION FORM
Diamond Bar, CA 

| | | |
| --- | --- | --- |
| 2021 Class Dates | Location | Availability |
| July 10 | Diamond Bar, CA | Full |
| July 24 | Diamond Bar, CA | Full |
| August 7 | Diamond Bar, CA | Full |
| September 4 | Diamond Bar, CA | Full |
| September 25 | Diamond Bar, CA | 4 |
| TBD | Diamond Bar, CA | Pending |
Class schedule last update 9/19/2021
Contact us for registration form details. Please include the class date you are interested in.
Class Reviews  (read all reviews)
This is an amazing class!– Harry is not only a great cook, but more importantly – A GREAT teacher as well. The class is very well put together and you will leave with all the tools you need to become a very good BBQ chef.I would recommend this to all who want to get better at cooking and enjoy life more.
Better than 20 BBQ Books I own – Instructor knew and told every aspect of BBQ process.  I plan to be a Pro and now know what to do to win
One of best classes I have tFaken – I am a Certified BBQ Judge and have taken several classes including some in the Mid-West. This ranks way up there as one of the best I have attended…
Thank you for curing me of my phobia of making bad barbecue – No BBQ book, video, or search on the Internet can compare to your hands-on class.
Yelp Reviews  (read all reviews)




 I can't say enough good things about this class. Harry is passionate about, and loves BBQ. I share his enthusiasm, and was hoping he could help me improve my skills.  He did so much more than that.  This class is hands on, and he covers  a lot of topics.  I learned so much, and Harry is a gracious and patient teacher. I've been working my pit for years, and was pretty good at it too, if I don't say so my own self, but this class brought me up to a new level of understanding.
So glad I took the Slap Yo Daddy BBQ pitmaster class.


 Someone once told me that I don't have to know it all.. but you do need to know who to ask for help when you need it and when it comes to BBQ, Harry Soo is that man. Save yourself years of trial and error and take this class. This class will take anyone from zero to hero in 6 short hours. The wisdom and love that Harry will impart on you is amazing. Save time and money with his proven process and resources.  I cannot recommend this class enough. If there is an advanced class.. sign me up Harry. You're the best!!! Thank you Sir


 This is the class to go to!!!  Harry knows BBQ and is willing to share his knowledge with his students not only at class but after when it really counts and you need good BBQ to impress your family and friends or if you are a competitor and need to impress the judges.  This is a class which is MORE than worth the registration fee.  Learn Harry's methods and then you can adapt them to your tastes. My first brisket after the class was amazing compared to before the class.  I am confident our team scores will be much better at the next competition … (read all reviews)



Why take Harry's class?
There are many choices of barbecue classes in America and many good instructors. So how do you choose? Many potential students actually read all of Harry's 100+ five-star review comments (1) (2)  before deciding for themselves (see Media).  If you're looking for an instructor who loves to teach and has a terrific track record for sharing the art and science of barbecue that's backed by 30+ Grand Championships and 100+ first places from America, Canada, England, and Hawaii, you don't need to look further (see Awards).
Since 2009, Harry has proven that he can take you from zero to hero in six-hours in his entertaining action-packed barbecue class whether you're a restaurateur, competitor, aspiring competitor, caterer, BBQ judge, or regular backyard cook. Of the 3,500+ pitmasters Harry has personally taught hands-on in small classes, many have gone on to win Grand Championships after class and 20+ have made it to the prestigious Jack Daniels Invitational contest in Lynchburg, Tennessee. Harry also trained the first woman grand champion pitmaster from California and the first one from Arizona. Harry's teaching has attracted a diverse clientele of students from around the world including England, Netherlands, Germany, Thailand, Korea, Africa, Canada, and Australia. Numerous Executive Chefs and classically trained chefs from prestigious institutions and multinational hotels (Four Seasons, JW Marriott, Disneyland Resorts, high-end casinos) have all found their way to Harry's class.
Class Details Class Description
This class is geared towards applying competition-style BBQ techniques to your backyard cooking including food safety, meat selection, trimming, recipe injections, 
rubs
, mops, sprays, sauces, temperature control, BBQ chemistry, bark formation, foiling meats, and determining doneness. The class will use a variety of smokers (WSM 18″ and 22″, 
Comet Kamado
, 
Green Mountain Grill
), propane grill, gas oven, and focus on wood selection and fire control.
In this six-hour class, you will work side-by-side with Harry to smoke, grill, bake, and prepare 15 different types of meats and sides. Sauces and rubs are all prepared from regular pantry ingredients. Class includes an all you can eat BBQ lunch of half-chickens, thighs, St. Louis style spareribs, Baby Back ribs, Rib Tips, Pork Butts, Beef Brisket, Sausage, Hot Links, Salami, and Santa Maria tri-tip. Our tri tip won 1st place in the 
Tri Tip Championship Throwdown
 in 2009 in Santa Maria, California, the tri tip capital of the world.  Harry often adds muse dishes to the class such as beef ribs, New Zealand lamb lollipops, Prime ribeyes, and several bacon appetizers such as Jalapeno Poppers, Bacon Wrapped Tempura Shrimp, and others. You will not leave hungry!
Traditional BBQ sides that will be taught include from scratch classic BBQ beans, coleslaw, and Harry's popular Slapilicious cornbread.
You will also learn how to prepare Harry's famous Seared Ahi Tuna with Maui Onion Dressing.
Each student will take home a hefty box of BBQ leftovers and sides for your family to enjoy and a bound copy of SYD BBQ 101 class manual, Harry's top-secret
 Slap Yo' Daddy rub
 which will be made in class, a souvenir black Slap Yo' Daddy BBQ apron (commercial grade), a frame able certificate of completion of Slap Yo' Daddy BBQ Pitmaster Class, and one year of free technical BBQ support.
Discussion / Demonstration / Hands-On
How to light a fire

How to make your own rubs and sauces

How to prepare chicken, ribs, pork, brisket, and tri-tip

How to prepare injections and marinades

Detailed instructions on cooking methods

Equipment and Accessories

Overview of BBQ contests and judging

Cooking long-haul Brisket and Pork Butts

Cooking spareribs, St. Louis Ribs, and Baby Back Ribs

Cooking Tri-Tip Santa Maria Style

Cooking Half Chickens and Chicken Thighs

Cooking Sausages and Links

Answering your grilling and BBQ problems and questions

Certificates and Conclusion
 Class Cost
The cost of each class is $429 per student. Checks are cashed 2 weeks prior to your class date.
Each class is limited in size as this is a hands-on class with one-on-one guidance.
Registration and Notification
If you see any open dates in the class schedule above, there will be a link to request a registration form beside that date.   Fill out the request form. You will be emailed a registration form. Fill out that form and send it in with your payment.  
Once you submit this  form, you will see a "Class Request Sent" confirmation page. If you do not receive a confirmation receipt, contact us. When a new class date becomes available, students who completed the class notification form will be notified of the date and given 24 hours to reply so we can email them the registration form.   It is then up to those students to complete the registration form and submit payment. Receipt of registrations and payments are processed in a first come first serve basis.
Once your spot has been purchased, you will receive a confirmation email and subsequent email reminders will be sent at the two-week, one-week, and three days intervals before the class date with special instructions and class location. Your check will not be cashed until 2 weeks before your scheduled class date. Please note we request that you confirm your attendance in the 2 week email reminder. If we do not hear from you, we will attempt to email and/or phone you to get a confirmation.

Airport and Hotel Information
For students flying in, the closest airport is Ontario (ONT) about 30 minutes away from Diamond Bar.   If you need a hotel room, The Ayres Hotel has worked out an agreement with SYD to reduce their 2021 room rate to 119.00 plus tax for a Deluxe Guestroom (standard rates range between $169-$189).  Room Description: King or Two Double Queen "Ayres Dream Sleeper" beds, MP3-compatible clock-radio, coffee maker, refrigerator, iron/ironing board, executive writing desk and premium channels (whirlpool jetted bathtub in select first floor rooms).  These rates are valid through the end of 2021.  It also includes complimentary full American breakfast daily, evening reception with complimentary beer, wine and light snacks (Monday – Thursday 5pm – 7pm), wireless high speed internet in guestroom and public areas, parking and fresh baked cookies.

Just mention that you are a Slap Yo Daddy BBQ student to get this discount at the time of your reservation.
21951 Golden Springs Drive
Ph 909.860.6290 x405

Contact person: Alma Teasley, Director of Sales

 Gift Certificates
If you wish to purchase a class as a gift for someone, please fill out the Request for Class Registration form and select an available class date. We will email you a registration form for you to complete and submit with payment. Once you have purchased a spot, we will email you a printable certificate and a confirmation of being in the class. If there are no class dates available, we will email you a registration form with a blank date. Submit the completed form and payment. When we receive your paperwork, we will email you a printable gift certificate. You will be notified once new class dates become available.

To redeem your gift certificate, please email us. Tell us which class you're interested in and mention that you have a gift certificate from us. If a spot is still available in the class, you will receive an email confirmation of being in the class.
NOTE: Gift Certificates are only valid for 1 year from the issue date.
This is how Jenn gave her gift to her husband. Awwww . . .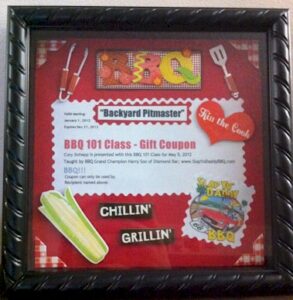 Standbys
If you want to be on standby for a filled class, please complete the Notification Form below and indicate which filled class you wish to be in as standby. If a spot becomes available and you are at the top of the standby list, you will be notified via email. You will be given 24-hours to respond. If we do not hear from you after the 24th hour, the next person on the waiting list will be contacted.
Class Time
Class runs from 7:45 am – 2:30 pm (arrive 7:45; we start promptly at 8:00; lunch around 1:00; conclude with certificates after lunch). If you're flying in, please note that  class may not end until 3:00 pm or later because BBQ is ready when it's ready and can't be hurried. Consequently, please don't book your outbound flight too tightly. You won't want to miss out on the final product and wrap up portions of the class.
Class Policy
We highly encourage masks and vaccinations but not mandatory, following the California guidelines
We understand that sometimes students need to reschedule or cancel the class they registered for. We will try to accommodate rescheduling of registration dates when possible up to two weeks before your scheduled class date.  Once you get into the two week period of your scheduled class date, the following cancellation and rescheduling policy applies:
2 weeks before class – Full Refund 
1 – 2 weeks before class – 50% refund
Less than 7 days before class – no refunds (as I have purchased all meats and materials for the class. This also applies to no shows)
Rescheduling Policy
If you are more than 2 weeks out from your scheduled class date, we will gladly reschedule you for a future date.  If you are within the 2 week window of your scheduled class and need to reschedule, we will do our best to fill your spot. If we are unable to fill your spot, we will unfortunately have to charge you for the empty seat in class.  Most of the time, we can find a replacement from either the wait list or a student in a future class. This rule is intended to discourage rescheduling the last minute and leaving us insufficient time to fill your spot.
In the rare instance where I need to cancel or move a class, I carefully consider my decision before acting.  Situations where I need to cancel or move the class date include, but are not limited to, severe weather, illness, unexpected change in my contest dates and sponsor commitments, or when there are less than 8 students signed up
Due to space constraints in my backyard we will not have space for spectators or additional volunteers.
Please email the Class Coordinator if you have questions.
BBQ Class Registration Form Request

Printing for T-Shirts and Aprons are done by: Turbo ScreenPrinting.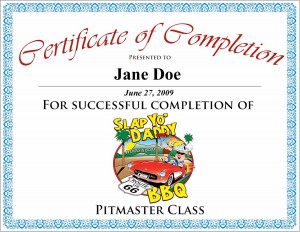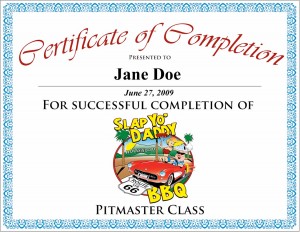 Note: All information and pricing subject to change.
NOTE: We reserve the right to accept, reject, modify, suspend, or delete user registrations at any time and within our sole and absolute discretion.  Any funds collected from the user will be returned.  When you submit your registration form, you agree to this policy.
Please check this page for latest updates
Please email the SYD class coordinator if you have questions.