20 Ways To Step Up Your Cheeseburger Game with Sous Vide Techniques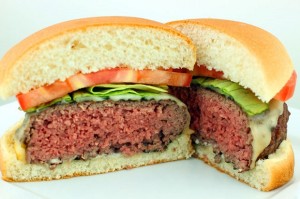 Recipe type:
Lunch, Sandwich
1 lb 20-30% fat freshly ground beef chuck (makes about 3 patties)
1 tablespoon SYD Hot Rub or salt and pepper
Organic green leaf lettuce
Organic tomatoes
Best Food Mayo
Mustard if you like
Pickles if you like
Bun of your choice
Divide the 1lb package of ground beef into three mounds. Sprinkle some SYD Hot Rub on each mound
Form burger patties with your hands. Do not overwork the meat
Sprinkle some more SYD Hot Rub on the patty
Gently place into a gallon food grade bag designed for sous vide cooking
Gently press out all the excess air and use you vacuum sealer unit to seal the bag without turning on the vacuum setting
Put into your Sous Vide Supreme unit (132F for 60 min or 135F for 40 mins)
Remove and cut open the bag. At this point, you can fry, sear, grill, or blow torch the patty
Assemble the burger with all your favorite fixings. Enjoy!
Recipe by
Slap Yo' Daddy BBQ
at https://www.slapyodaddybbq.com/2013/06/20-ways-to-step-up-your-cheeseburger-game-with-sous-vide-techniques/