SYD Sous Vide Beef Rendang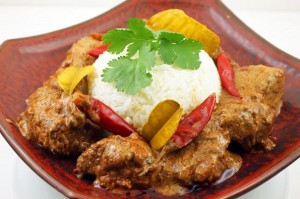 2 lbs stew beef in 1 inch chunks (I used Choice grade brisket)
1 tablespoon SYD Hot Rub or salt and pepper
Spice Paste
5 Tablespoons finely minced lemon grass, white part only (discard any tough parts)
4 teaspoons chopped garlic
8 shallots, peeled and chopped
6 teaspoons coriander powder. I toasted coriander seeds in a saucepan over gentle heat and ground it using a coffee grinder
6 teaspoons mild chili powder
½ cup canola oil, and more as needed to sauté the spice paste so it does not burn Spice paste after sauteing
Liquid ingredients
8 Tablespoons coconut milk (use only the cream part by letting a can of coconut milk sit for a day; open the can gently and skim off the thick coconut cream portion and discard the watery part)
2 teaspoons fish sauce
4 teaspoons sugar
1 teaspoon cinnamon
4 teaspoons tamarind paste (from Indian grocery store) Use only the thick cream portion of the coconut milk
Aromatics
2 cinnamon sticks
Thai or Serrano chilies, as many as you like
8 whole cloves
6 whole cardamom pods (from Indian grocery store)
6 Kaffir lime leaves or substitute with lime zest (from Asian or Thai grocery store)
Toppings
Dice beef into 1 inch cubes. Sprinkle some SYD Hot Rub or salt and pepper. Char the outside surface of the beef cubes on a hot grill. Or smoke in a 275 degree pit for 30 minutes. Set aside.
Place spice paste into a food processor. Turn on and drizzle enough canola oil to allow the spice paste to blend into a paste. Remove250
Heat sauté pan with two tablespoons canola oil. Transfer the spice paste to the sauté pan once the oil has warmed up. Saute the spice mix under gentle heat until the oil begins to separate and the spice paste turns brown and fragrant (about 15-20 minutes). Set sauté pan aside to cool
Mix the liquid ingredients in a bowl. Add the spice paste, browned meat, and aromatics. Stir thoroughly
Place the mixture containing the four "Lego" blocks: meat, spice paste, liquids, and aromatics in a gallon sous vide bag.
Put into your Sous Vide Supreme @150F for 3 days or more depending on how tender you want your beef to be. I found 3 days is about right for my Choice grade brisket chunks but your time may vary depending on the cut of meat you used
Remove and cut open the bag. Taste and adjust seasonings with salt and pepper. Mix in the toasted coconut flakes before serving with some steamed Jasmine rice. Enjoy!
Recipe by
Slap Yo' Daddy BBQ
at https://www.slapyodaddybbq.com/2013/06/syd-sous-vide-beef-rendang/