SYD Easy BBQ Meatloaf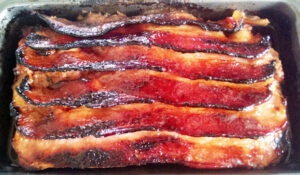 1 lb ground beef 20% fat content
1 lb Jimmy Dean Spicy sausage
4-oz instant mashed potatoes (I used Idahoan Four Cheese package)
½ cup your fav BBQ sauce and a little extra for finishing
1 egg
1 tablespoon SYD Hot Rub or salt and pepper to taste
6 bacon strips
Chopped Italian parsley (optional) Meatloaf was attacked before I could take final photos!
Pour 4-oz instant mashed potato mixture into mixing bowl. Add ¾ cup warm water (do not follow the package directions as you don't want it to be too mushy). Wait a couple of minute and fluff with a fork. It should have a pebbly texture and not look like mashed potatoes
Mix in the Jimmy Dean sausage and ground beef
Add 1 ½ tablespoons SYD Hot Rub or salt and pepper to taste. Mix
Add 1 egg and ½ cup of your favorite BBQ sauce and mix. Add the optional chopped parsley if you like
Fill 9 X 5 inch pan with mixture
Cover with 6 bacon strips
Place in 275 degree oven or pit with some apple wood chunks and cook until internal is 165 (about 1 hour to 1:15)
Remove from pit and place under broiler until bacon is crispy
Let it cool 20 minutes. Slice and serve with an extra drizzle of BBQ sauce It was wolfed down fast!