Sexy Valentines Chicken Hearts - Sweet Outside Tender Inside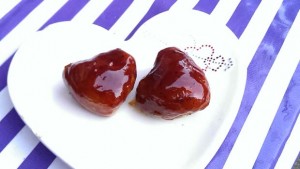 Small chicken thighs (as many as you like)
SYD Competition Chicken Rub (won 1st Place USA in 2012 KCBS Chicken TOY)
Your favorite barbecue sauce (add some honey and hot sauce to make it sweet and spicy)
Debone chicken thigh and trim off excess meat, skin, and fat. Trim to fit the heart-shaped mold you are using (I used a heart-shaped silicone cookie sheet). Cut a V-notch on one end to help it fit nicely
Debone thighs and trim to fit your heart-shaped mold
Remove the skin and scrape excess fat from the underside of the skin
Fit the thigh into the shape
Put skin on and apply your chicken rub
Scrape excess fat from under the skin and drape over meat
Cook in 275F pit for about 30 minutes. This should be long enough to set the shape
Season with your favorite Chicken Rub
Carefully remove from the silicon mold and place into a foil pan
Cover foil pan tightly and cook covered foil pan for another 30 minutes in the pit
Open the foil cover and be cautious so you don't burn yourself with the steam escaping
Brush you heart shaped morsels with your favorite sweet and spicy barbecue sauce
Glaze and return to pit to set
Return to pit for 5 minutes to set
Watch her (or his) heart melt when she sees it!
Enjoy!
Recipe by
Slap Yo' Daddy BBQ
at https://www.slapyodaddybbq.com/2014/02/sexy-chicken-hearts-sweet-outside-tender-inside/