Barbecued Spiral Stuffed Pork Loin w/ Bratwurst, Apples, and Walnuts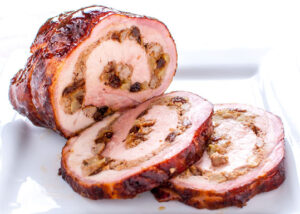 One 2-3 pound center cut pork loin
(Butcher's twine for trussing)
Stuffing:
1 teaspoon vegetable oil
½ pound fresh (raw) bratwurst sausage
1 Granny Smith apple; peeled, cored, and diced
¼ cup raisins
¼ cup walnuts, chopped
1 tablespoon butter
¾ cup plain Panko bread crumbs (or homemade)
¼ cup apple juice
SYD rub or salt & pepper to taste
Glaze:
1 stick of butter (add ¼ teaspoon salt if unsalted butter)
½ cup packed brown sugar
2 tablespoons Karo Light Corn Syrup
¼ cup apple juice
Remove the casings from the fresh (raw) bratwurst sausage and discard casing.
Sauté the bratwurst sausage in a bit of vegetable oil over medium-high heat.
Remove the sausage once it's browned and reserve the oil in the pan.
Add in the diced apple, raisins and chopped walnuts into the same pan and sauté a couple of minutes.
Add the butter and cook until apples are softened.
Re-add the sausage and Panko crumbs. Stir for about 30 seconds.
Add the apple juice. Adjust the juice amount, as needed, so the stuffing mixture is not too thick or not too runny
Add SYD rub to taste
Refrigerate for an hour before proceeding to the next step — it needs to be cooled for food safety reasons if you don't want to cook the spiral loin immediately.
Fillet/butterfly your pork loin so you end up with a flat piece. Trim off excess ridges and thicknesses. Cover with plastic wrap and pound flat a bit with the smooth side of a mallet. Trim the sides squaring them up.
Trim off excess
Square up the sides.
Apply some SYD rub or salt and pepper.
Lay the refrigerated bratwurst stuffing down leaving 1 inch borders. Roll and tie into a spiral log — making sure to roll up the non-fat cap end first, so that the fat cap is on the outside of the roll. Apply some SYD rub on the outside and wrap in Saran wrap. Store in fridge until ready to cook.
Truss with Butcher's twine
Trussed and rubbed with SYD Rub
Start your pit and when pit temp is stable at 250F, transfer the cold spiral loin from the fridge into your hot pit (this will help generate a smoke ring). Cook until the pork internal temperature is 145F (Note: add 1 tennis sized chunk of apple if you're using Kingsford briquettes as I did).
Remove from pit and loosely tent with foil for 15 minutes to allow it to cool and for juices to re-distribute.
While pork is cooling, prepare the glaze. Saute the butter & brown sugar in a pan. Add Karo syrup, add apple juice and simmer to reduce the mixture to the consistency of thin gravy.
Recipe by
Slap Yo' Daddy BBQ
at https://www.slapyodaddybbq.com/2014/04/barbecued-spiral-stuffed-pork-loin-w-bratwurst-apples-and-walnuts/