Lemongrass Pork Sliders with Daikon Carrot Slaw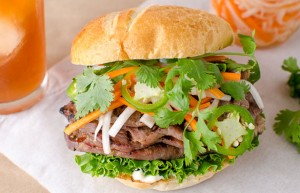 Recipe type:
Lunch, Sandwich
2 lbs of SRF Pork Collar
6 Hamburger buns (more as you'll want seconds)
2 Green Jalapenos, sliced
Green leaf lettuce, washed (or butter lettuce)
Cilantro bunch, washed
1 cup julienne carrots
2 cups julienne daikon (or substitute jicama if you can't find daikon)
1 cup white vinegar
3 TBS sugar
2 TBS fish sauce
½ cup water
Mayonnaise for spreading
Sriracha if you like it spicy
MARINADE:
3 TBS minced lemongrass (Don't use the hard or woody parts of the lemongrass stalk)
1 TBS finely chopped ginger
4 TBS brown sugar
3 TBS fish sauce
2 TBS soy sauce
1 tsp sesame oil
1 tsp black pepper
1 tsp chili flakes (optional if you don't like spicy)
2 cloves garlic, minced
2 TBS vegetable oil
Freeze the pork for 2 hours to firm it up for slicing.
Slice pork collar into ⅛th inch medallions. Note, If you're not using a marbled or tender cut like Kurobuta, you can pound the pork slice between two sheets of plastic wrap to make it more thin and tender.
Prepare marinade. It resembles a thick syrupy slurry.
Dredge pork slices in slurry and stack the dredged steaks in a pan. Cover and refrigerate.
While pork is marinating in the slurry marinade, prepare the carrot/diakon slaw.
Mix the vinegar, sugar, fish sauce, and water in a bowl. Add julienned daikon and carrots. Mix and taste to adjust seasoning. Let stand in fridge as you marinate the pork slices. They can be refrigerated for several days.
Preheat gas or charcoal grill to 450F or hotter (I prefer charcoal if I have time).
Remove the pork slices and shake away excess marinade. Discard the marinade.
Grill the pork slices over direct heat until nicely charred and you can smell the aroma. (Be sure to eat some while you're grilling and imagine about how much Dad's going to love it.)
If you're using an oven, use the broiler and cook around 6 minutes, flipping once until cooked and nicely seared.
Lightly toast your hamburger buns.
Assemble the slider by starting with a mayo spread on both sides of the bun, add lettuce on the bottom half of the bun, then add the grilled pork slices (I like two per slider), and top with jalapeno slices, daikon/carrot slaw, and some cilantro. If you don't like cilantro, skip it and I won't tell. Squirt some Sriracha if you like your sliders spicy.
Enjoy with an Arnold Palmer ice-tea lemonade.
Recipe by
Slap Yo' Daddy BBQ
at https://www.slapyodaddybbq.com/2014/06/lemongrass-pork-sliders-with-daikon-carrot-slaw/