Texas Toast Tri-Tip Sandwich - Independence Day Celebration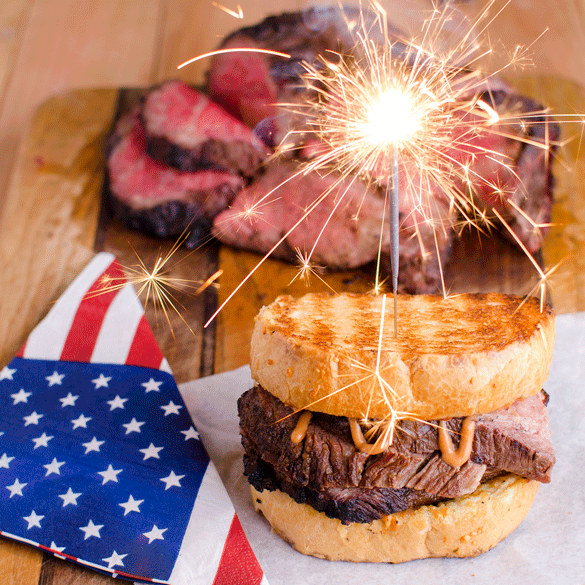 Recipe type:
Lunch, Dinner
Beef Tri-tip (approximately 2 ½ – 3 pounds)
2 tablespoons Worcestershire Sauce
8 slices of frozen Texas Toast (w/ cheesy garlic topping)
TRI-TIP RUB:
2 tablespoons SYD Meat Rub (can substitute with free rub recipe on web site)
1 tablespoon granulated garlic (or ⅔ tablespoon garlic powder)
1 ½ tsp freshly ground black pepper
SPICY DRIZZLE (Optional):
¼ cup favorite BBQ sauce
2 tablespoons sour cream
1 tablespoon Sriracha sauce or favorite hot sauce
Combine the rub in a shaker jar.
Coat the entire Tri-tip with the Worcestershire sauce (to better adhere the rub).
Apply coat of the rub on Tri-tip and Rest 1 hour in fridge.
Prepare optional spicy drizzle sauce.
Grill indirect at around 275F until internal temperature is 110F. (Add a few Santa Maria red oak wood chunks to the charcoal if possible. If not, use another red oak, or alternatively hickory/pecan.) This will take about 45 minutes depending on grill temp.
Grill over direct heat to char (reverse sear) and remove when internal is 125F. (After pulled and the rest is started, it will reach up to 130F for medium rare.)
Rest the meat 20 minutes under loosely tented foil.
While meat is resting, grill indirect the frozen cheesy Texas Toast in approximately 425F degree heat, until browned. Move the toast over the hot coals for about 3-5 seconds to get some nice brown grill marks.
Cut the Tri-tip boomerang into three pieces along the grain first. See next photo. Then move your knife by 90 degrees to slice each of the three pieces across the grain in ⅛ to ¼ inch thick slices, as shown in next photo.
Pile Tri-tip slices onto Texas Toast.
Drizzle on the optional spicy sauce.
Top the sandwich with another slice of prepared Texas Toast.
Recipe by
Slap Yo' Daddy BBQ
at https://www.slapyodaddybbq.com/2014/07/texas-toast-tri-tip-sandwich-independence-day-celebration/