Pork Collar BLT Sandwich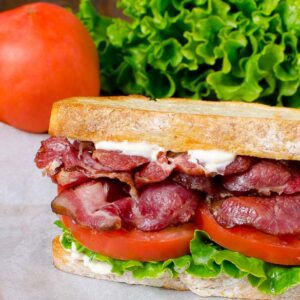 BRINING
2 lbs pork collar (or substitute with pork butt)
Curing Brine
1 gallon cold water
1 1⁄2 cups kosher salt
2 cups brown sugar
8 teaspoons pink salt (cure #1)
BLT
1 pound of pork collar bacon (1/2 of the above cooked bacon)
1 tbsp of cooking oil
8 slices of your favorite bread
¼ cup of mayonnaise
2 whole tomatoes, sliced
4 leaves of green leaf lettuce (or butter lettuce)
SYD Hot Rub (optional)
Part 1 - Mix the curing brine liquid
Soak the pork for 48 hours in curing brine, in a 40F degree (or colder) refrigerator. Weigh it down so it is submerged (e.g. with a large river rock)
Discard brine
To remove excess salt, soak in cold water and refrigerate for 2 hours.
Pat dry and place back in the refrigerator uncovered on a rack for one day to form a nice pellicle.
Heat your BBQ Pit up to 200F w/ charcoal & a few wood chunks.
Smoke indirect until an internal temperature of 140-145F.
Let cool down until safe to wrap up to return to the refrigerator.
Chill the bacon in the refrigerator overnight.
Part 2 - Assemble your BLT
Slice the bacon thinly and fry in 1 tbsp of cooking oil. Sprinkle with SYD Hot Rub (optional) (We need the extra fat of the cooking oil since this bacon doesn't have as much fat as pork belly bacon.)
Toast your bread if you like.