Barbecued Oxtails with Buttered Pasta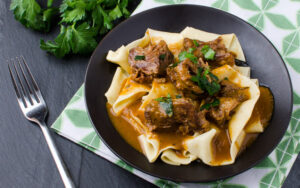 2 oxtails, about 3-4 lbs, trimmed and cut into pieces (mine were from Costco)
½ cup of flour seasoned
¼ cup vegetable oil
6 garlic cloves, peeled whole
1 medium onion, chopped
3 medium carrots, chopped
3 sticks celery, chopped
3 tablespoon tomato paste
2 cups beef stock (I used Cambells)
3 tablespoons Worcestershire sauce (Lea and Perrins)
2 tbsp brown sugar
Sprigs of fresh thyme and rosemary
Sprinkle medium coat of SYD rub on oxtails and then dredge in flour, shaking off excess. Heat ¼ cup of vegetable oil in a heavy pan and brown oxtail in batches before transferring to a disposable half foil pan.
Add the 3 tablespoons tomato paste, 2 cups beef stock, 3 tablespoons Worcestershire sauce, ½ cup brown sugar, fresh thyme, and SYD All Purpose rub to taste
Bring to a boil and then pour onto the oxtails in the foil pan. Add the fresh thyme and rosemary
Add water to just cover the oxtails in the pan
Smoke the foil pan in a 325F smoker with some apple wood for 1 hour and then cover with foil once the oxtails receive enough smoke flavor. Once foiled, you can cook the covered foil pan in your oven on a sheet pan to catch any spills
Remove the pan from your pit or oven when oxtails are tender, about 3-4 hours total cook time
Remove oxtails and let cool. Using your hands, strip the meat from the bones and place in a saucepan. Discard the bones
Put the liquid and remaining vegetables in the pan into a blender. Puree the sauce
Return the blended sauce to the oxtail. Season to taste with more Worcestershire sauce and SYD All Purpose rub
Serve on top of some buttered pasta of your choice. Sprinkle some chopped Italian parsley as garnish.
Recipe by
Slap Yo' Daddy BBQ
at https://www.slapyodaddybbq.com/2015/05/barbecued-oxtails-with-buttered-pasta/