Tri-trip Wrapped Scallops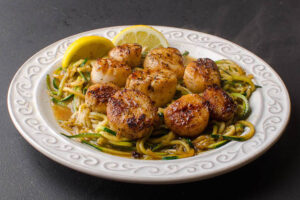 12 large scallops (I used previously frozen scallops from Sams Club)
¼ cup your fav barbecue sauce
2 tablespoon lemon juice
1 tablespoon melted butter
12 slices of cooked beef to wrap the scallops
Toothpicks
Preheat your kettle grill with ½ chimney of hot coals.
Dry your thawed scallops (if frozen) on a paper towel. If your scallop is wet, you will not get a nice char as water is the enemy of crust. Coat the dried off scallops with a thin coat of cooking oil and sprinkle with a little salt before grilling. And two-thirds of the way into grilling, sprinkle on a good amount of SYD chicken rub. This allows the rub to cook in a bit but without burning.
Cook the scallops on very hot grill or a carbon steel pan on the grill. You can also do this on a saucepan on your kitchen stove.
Wrap your grilled scallops with cooked beef of your choice and fasten with toothpicks. I like brisket or tri tip best to go with my scallops. Sirloin, ribeye, or flank steak is also good.
Recipe by
Slap Yo' Daddy BBQ
at https://www.slapyodaddybbq.com/2015/08/surfnturftri-tip-wrapped-scallops/