Slap Yo Daddy Spicy Chicken & Bacon Fried Rice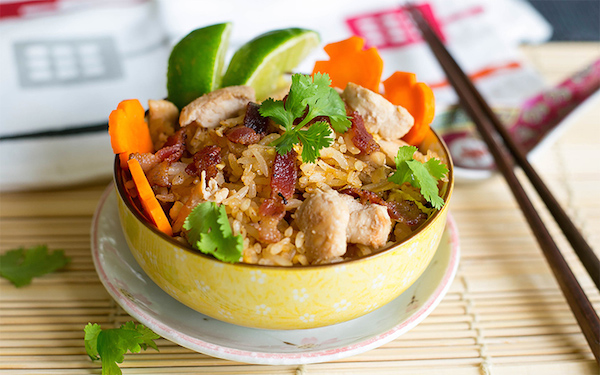 4 boneless chicken thighs or another protein of choice, bite-sized pieces
4 teaspoon soy sauce
½ teaspoon sugar
4 tablespoons vegetable oil
3-4 cloves garlic, chopped
¼ small onion, small diced
Cayenne pepper, to taste
½ teaspoon chili flakes
¼ tsp ground white pepper
4 slices cooked bacon, rough chop
3 eggs
3 cups cooked rice
Lime wedges
⅓ cup chopped cilantro
Combine chicken with soy and sugar; set aside.
Heat a large wok or a large sauté pan over medium high heat, add marinated chicken and let brown on one side. Once browned, toss the chicken and cook until done. Remove from pan and set aside.
In the same wok, add a little more oil to coat the bottom, and heat over medium high heat. Add onion, garlic and chili flakes and sauté until the onion is translucent.
Add eggs, break the yolks, and let the egg set about half way then scramble briefly. Add rice and toss briefly, breaking up big lumps with the back of your spatula.
Add SYD Chicken rub and cayenne, as needed, and toss, breaking up lumps, until the rice is evenly coated in the sauce and the grains are all separated. Add more soy sauce if you want a darker color.
Add bacon, cooked chicken and white pepper and toss.
Use cold, leftover cooked rice that was left overnight in the fridge. This will firm up and separate the grains so the rice will not be sticky when you fry it. If you can't wait, spread your freshly-cooked rice on a sheet pan to cool it down quickly and refrigerate a few hours before cooking.
Don't use short grain sushi rice, sweet rice, or glutinous rice. I like medium grain jasmine rice as the grains don't clump or fall apart when fried. Short grain rice tends to be softer and sticks together so you'll need more oil if you use it.
A super hot wok is ideal to fry rice but any large saute pan or pan will work. Use enough oil so your ingredients don't stick to the surface. In Chinese restaurants, their super hot woks can achieve that smoky burnt flavor called "Wok Hey" in their stir-fried dishes. Your home stove probably does not have the 25,000+ BTU so preheat your wok before adding ingredients.
Try not to cook a too big a batch because when you have too many ingredients, the wok doesn't get hot enough and your ingredients will get soggy causing the rice to clump together. If you prefer, cook each ingredient individually (raw vegetables or meat, egg) and remove to separate plates. Return all the ingredients to the pan at the end for the final mixing and seasoning.
Don't overdo your wet seasonings like soy sauce. Add a few tablespoons for flavor. Taste it and If not salty enough then add salt after that for saltiness. Too much wet seasonings will make your fried rice wet and soggy.
Recipe by
Slap Yo' Daddy BBQ
at https://www.slapyodaddybbq.com/2015/09/slap-yo-daddy-spicy-chicken-bacon-fried-rice/