Slapilicious BBQ Chicken Pizza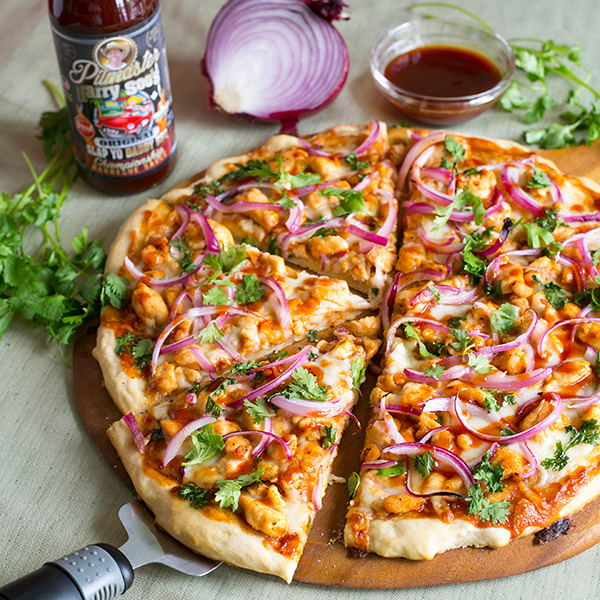 1 bag of Trader Joe's Pizza Dough
8-10 ounces chicken breast, cut into small cubes
2 cups shredded mozzarella cheese
¼ red onion, sliced
Handful of cilantro, chopped
Season the cubed chicken meat with SYD Chicken Rub. Cook it over the stove top on a non stick pan with a little cooking oil (optional). Set aside to cool.
Set the oven to 450 degrees (or according to the instruction on the pizza dough package).
Prepare the pizza dough according to the package instruction.
Use a pizza baking pan or a regular baking pan, stretch out the dough to 12 inches round.
Gently spread the SYD BBQ Sauce on the dough to cover as much area as possible.
Sprinkle the cheese over the SYD BBQ Sauce.
Add the cooked chicken over the mozzarella cheese.
Bake accordingly to the dough package, between 8-10 minutes, until the crust almost done.
Take out the pizza, sprinkle with the sliced red onions and cilantro and bake another 2-3 minutes.
When the pizza is done, drizzle more SYD BBQ sauce on top of the pizza. Serve immediately.
Recipe by
Slap Yo' Daddy BBQ
at https://www.slapyodaddybbq.com/2015/10/slapilicious-bbq-chicken-pizza/