Slapilicious Bacon Apple Pie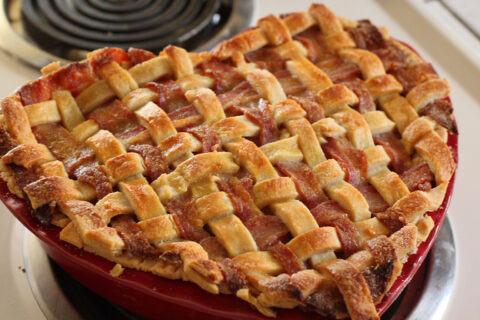 Pie Crust
¾ cup cold unsalted butter
2 ½ cups all purpose flour
½ teaspoon salt
½ cup cold vegetable shortening
6-8 tablespoons water
1 egg yolk, beaten, for egg wash
Filling
6 cups of peeled and diced apple, about ½ inch dice
2 heaping teaspoons ground cinnamon
1 teaspoon freshly ground nutmeg
½ teaspoon salt
8 heaping tablespoons white sugar
4 heaping tablespoons golden brown sugar
1 teaspoon vanilla
2 tablespoons flour
½ cup of water
10 strips of bacon, cut into ½ inch wide strips, brushed with maple syrup, and made into a lattice with the pie pasty lattice on wax paper. Some SYD Hot Rub
Cut butter and shortening into small pieces and freeze. Keep flour in freezer as well. Use a food processor to pulse the flour, salt, butter, and shortening until the mixture resembles coarse meal. Add the cold ice water and pulse until it forms into a dough. Add water, as needed, a little at a time if dough is too dry. Cut dough ball into half and flatten each into a circle. Wrap in saran wrap and chill for at least 30 minutes and up to 3 days
Cook apples in a large heavy saucepan over low heat. Add remaining filing ingredients. Cook until apple has softened to the consistency you like, about 20 minutes. Remove from heat
Roll out your chilled dough into a 14-inch round. Transfer to your pie dish. Trim overhang to ¾ inch and crimp with fork. Refrigerate pie crust until ready to cook. Line crust with pie weights/beads
Roll out your second chilled dough and cut into half-inch strips for the lattice.
Use one strip of bacon and one strip of pie pastry strip in an alternating pattern to create a 10-inch by 10-inch lattice on parchment paper. Apply a light sprinkling of SYD Hot rub that will give the lattice a slight salty note after it is cooked. Freeze lattice until hard (about 20-30min) on cookie sheet.
Preheat oven to 375 degrees. Remove pie crust from fridge. Bake pie crust with pie beads in it for 10 minutes.
Remove pie beads and spoon apple pie filling into the warm crust. Carefully plop the frozen bacon lattice you made on top of the pie. Note that the SYD Hot rub you sprinkled on the lattice earlier will the on the underside of the lattice after you put the lattice on. Trim off edges with a pair of scissors. Brush with beaten egg yolk
Bake at 375 degrees until filling is bubbly and bacon and crust is cooked, about 35 to 40 minutes. Cover the edges of your pie once it has browned. Ensure the bacon is cooked until crispy. Remove and cool on a cooling rack.
Cut and serve it ala mode with your favorite ice cream and garnish with some bacon strips.
Recipe by
Slap Yo' Daddy BBQ
at https://www.slapyodaddybbq.com/2012/09/slapilicious-bacon-apple-pie/