Slapilicious Collard Greens with Smoked Pig Shank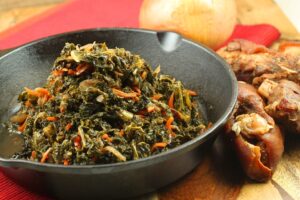 1 lb pig shanks, trimmed. If there are any hairs, you can singe them off by using tongs to hold the shanks over a stove top burner or pit fire
1 onion, chopped
2 large bunches of collard greens, washed, and chopped (about 6 cups tightly packed)
1 carrot, julienned
Salt and pepper to taste
Apply medium coat of SYD Hot Rub on pig shanks
Smoke in 250 degree pit with some apple wood for 2 hours. Remove. Freeze if not using right away
Put the shanks in a pot and fill with enough water until shanks are submerged. Add chopped onion. Cook on stovetop on low heat until shanks have melted into a gelatinous stock (about 3 hours). Alternatively, you can do the same in a half foil pan in your pit. Be sure to top up with water with either method to ensure you get at least 2-3 cups of stock at the end. I like to debone the shanks at this point so I can use the melted skin and meat in my dish. You can also refrigerate the stock and skim off the fat if you're under doctor's orders
Once the stock base is ready, find a pot big enough to cook your greens. Cook the collard greens with the prepared stock. Season to taste with salt and pepper. If you like your collard greens very tender, cook them for up to an hour. If you like them a bit al dente, cook them for 15 minutes. I add the julienned carrots once my greens are tender as I like the sweetness of the carrot to balance the slight bitterness of the greens. If you don't have carrots, you can add a pinch or two of brown sugar. Enjoy immediately or you can refrigerate it and reheat the next day for better flavor.
Recipe by
Slap Yo' Daddy BBQ
at https://www.slapyodaddybbq.com/2012/10/slapilicious-collard-greens-with-smoked-pig-shank/