Slapilicious BBQ Lemon Chicken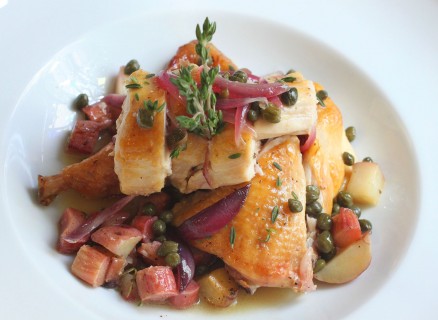 1 four-lb whole chicken, cut in half with backbone removed
3 lemons
1 cup chicken stock
1 tablespoon grated Parmesan cheese
2 tablespoons capers
Couple sprigs of fresh thyme
2 bulbs shallots, peeled and sliced
2 tablespoons butter
Salt and pepper
Sprinkle a thin layer of salt onto both sides of the half chicken, about 2 teaspoons per half chicken. Leave overnight in fridge for the dry brine to take effect.
Sprinkle some SYD Hot rub on the chicken. Add diced potatoes and put into a 300 degree smoker. Toss in a couple of apple wood chunks to get some smoke. If you like, add some chopped peeled shallots at this time. You can also cut your lemons into half and smoke them while you cook the chicken. This dish can also be done in a oven if you're not using a smoker.
Smoke for about 1 hour or until internal is about 165 degrees in the breast and 170 in the thigh.
Remove the chicken with a slotted spoon and keep warm while you finish the sauce.
Pour the liquid from the foil pan into a saucepan. If you don't have enough liquid, use some canned chicken stock to create about 1½ cups of liquid. Add thyme and simmer the liquid until reduced in half.
Add a heaping tablespoon of grated Parmesan cheese. Stir with a whisk until the cheese has dissolved. Whisk in 2 tablespoons of cold butter cut in small pieces. Do a bit of butter at a time so the sauce thickens.
Just before you serve, add juice from a lemon and the capers. You can use fresh lemons or squeeze the juice from the lemons you smoked. Taste and adjust the amount of lemon to your liking. Some days I like it really lemony and some days I like it mild. Season with salt and pepper.
Cut the chicken and arrange on a plate. Add the potatoes and shallots. Pour the sauce over the chicken. Garnish with a sprig of thyme and serve immediately. Cook some pasta to go with the chicken if you like.
Recipe by
Slap Yo' Daddy BBQ
at https://www.slapyodaddybbq.com/2012/10/slapilicious-bbq-lemon-chicken/