Slapilicious Fried Green Tomatoes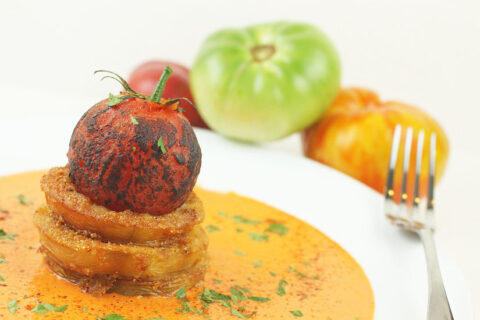 4 green tomatoes (firm and heavy)
1 cup all purpose flour
⅔ cup yellow cornmeal
1 egg beaten
1 cup buttermilk
sugar
Canola oil for frying
Tomato Puree sauce (optional; can be made and stored to use a base for spaghetti sauce)
4 ripened tomatoes
½ onion, chopped
1 clove garlic, chopped
Sprig of fresh thyme
2 tablespoons Olive oil
½ cup heavy cream
Sugar
Basil for garnish
Slice your tomatoes about ½ inch thick and discard the ends. Place on cookie sheet
Apply a medium coat on SYD Hot Rub and sprinkle some sugar. Rest for 15 minutes or until the surface becomes tacky as the salt from the rub pulls the moisture out of the tomato
Heat canola oil to 350 degrees. Ensure there is enough oil to cover the tomato slices. Ensure the oil is hot enough else the fried slices will be soggy
Mix flour, cornmeal, and SYD rub (1 tablespoon) in a baking dish
Beat egg and mix in the buttermilk.
Dip seasoned tomato slices into the egg wash and then into the flour mixture. Shake off excess. Repeat process again by dipping into the egg wash and then flour mixture. Shake off excess again. Place on wire rack prior to frying.
Once oil is at temp, fry the tomato slices about 8 slices if you're using a 12-inch pan. Flip once the bottom is golden brown.
Remove drain on paper towels. Reseason immediately with some SYD Hot rub. This should be done when hot. Let the tomatoes air so the crust stays crispy. Serve immediately.
Recipe for Tomato Puree Sauce
Bring a pot of water to boil. Cut an "X" on the bottom of your ripe tomatoes. Plunge into the boiling water for a few minutes until the skin starts to curl. Remove with slotted spoon and pull off the tomato skin taking care not to burn yourself. Set aside peeled tomatoes
Place garlic into saucepan. Turn on low heat. Add 2 tablespoons olive oil. Remove and set aside garlic once they are cooked but before they turn brown and bitter.
Turn on medium heat. Add thyme, onions, and sauté until onions are translucent, about 10 minutes. Add peeled tomatoes and reserved garlic and blend it into a fine puree using a propeller blender in the saucepan. Add the cream and simmer for 15 minutes. Add SYD Hot Rub and sugar to taste
You can strain the sauce before using it or serve it unstrained. I prefer unstrained.
For a dramatic presentation, save some of the tomatoes you blanched and peeled, and use a propane torch to char it to top the fried green tomatoes. Garnish with chopped basil.
Recipe by
Slap Yo' Daddy BBQ
at https://www.slapyodaddybbq.com/2012/11/slapilicious-fried-green-tomatoes/