Slap Yo' Daddy Peach Cobbler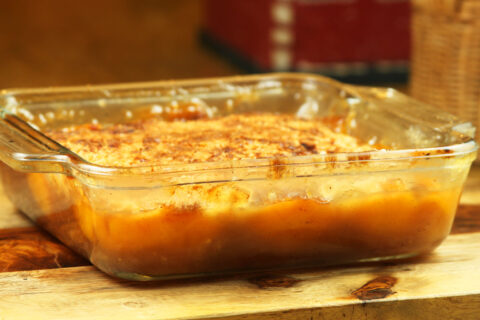 1 cup plus ⅔ cup Bisquick
29 oz can of peaches in heavy syrup
1 cup packed brown sugar
2 sticks butter – melted
4 tablespoons lard – melted
1 teaspoon ground cinnamon
½ teaspoon freshly ground nutmeg
1 vanilla bean, scraped and pulp reserved
½ teaspoon Kosher salt
Mix Bisquick and salt and form into a mound with a crater in the middle. Fill the crater up to the rim with the microwave melted lard and butter.
Mix the flour with the lard/butter with a spatula until it forms a paste. Add more lard/butter as needed. Save the reminder lard/butter.
Pour the can of peaches into an buttered 8 X 8 oven proof dish. Add 1 cup packed brown sugar, vanilla bean, cinnamon, and nutmeg. Mix thoroughly.
Drop the dough one tablespoon at a time into the peach mixture ensuring that you spread out the dough evenly all the way to the edges. Pour back any remaining lard/butter.
Bake in 400 degree oven for about 45-60 minutes until done. Use a toothpick to verify that the dough is cooked.
Sprinkle some extra cinnamon if you like. Enjoy!
Recipe by
Slap Yo' Daddy BBQ
at https://www.slapyodaddybbq.com/2012/12/slap-yo-daddy-peach-cobbler/