Texas-style Smoked Chili (adapted from Johnny Trigg's recipe)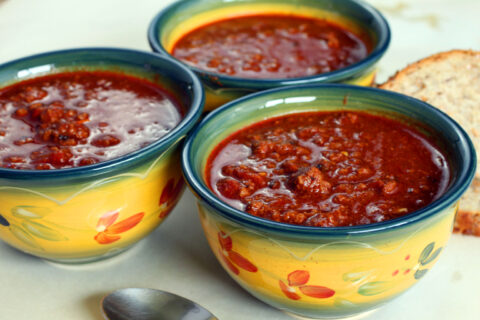 5 lbs ground chuck or ground beef with 25% fat
2 tablespoons of canola oil
1 big onion, chopped
1 tablespoon garlic, chopped
2 heaping tablespoons all purpose flour
28 oz can diced tomatoes
2 six-oz cans tomato paste
4 oz of old cheese (I used an old block of Parmigiano-Reggiano I had in the fridge. A block of sharp cheddar or cheddar also works well)
2 tablespoons brown sugar
1 teaspoon ground cinnamon
2 beef bouillon cubes Knorr brand
½ tsp cayenne powder (more or less to your taste)
SYD Hot Rub to taste
Chili spice dunk (use more or less to your taste)
3 heaping tablespoons mild chili powder
2 heaping tablespoons paprika
2 heaping tablespoons ground cumin
Saute ground beef in large saucepan in canola oil until beef is cooked. Season with SYD Hot Rub to taste. Use a slotted spoon to transfer the cooked beef into your cast iron pot. If you don't have a cast iron pot, you can use a disposable foil pan for easier cleanup. Or use a pot if you're cooking the chili on your stove.
Drain off excess fat leaving behind about 4 tablespoons of fat. Add onions and sauté until onions are translucent. Add chopped garlic and cook for a couple more minutes. Use a slotted spoon to transfer the onion and garlic mixture to the pot or pan where you have your cooked ground beef.
Whisk in two tablespoons of flour in the remaining fat in the saucepan. Cook the flour in the oil under medium-low heat to make a roux. Add more oil as needed to get the right consistency for the roux. It should feel like uncooked pancake batter. Cook the roux until it is light brown.
Once roux is light brown, turn up the heat and add water a half cup at a time to whisk the roux into gravy. Once you reach the gravy consistency, stop adding more water.
Add the canned tomatoes, tomato paste, block of old cheese, brown sugar, cinnamon, crumbled beef bouillon cubes, cayenne, and salt and pepper. Pour the entire mixture into the pot/pan you have your cooked ground beef. If you're not going to smoke the chili on the pit, you can use a pot or Crockpot to simmer the chili for several hours.
Add half of the spice dunk mixture and mix thoroughly. Put the pot/pan into your pit at 250-300 degrees and smoke the chili uncovered for several hours. Every hour, give it a stir and add more water (or beer) as needed.
Add the remaining half of the spice dunk mixture about 15 minutes before you're going to eat it. The extra time is needed to cook the spices. There is a fine line as to whether the spices taste "raw" or mellow and it's a matter of individual preferences. Some people like the taste of the raw spices and some don't. For chili competitors, this is a topic of endless debate. For me, 15 minutes is just right. I also prefer to cook my chili and then refrigerate it so I can eat it the next day as it tastes better.
Before you serve your chili, don't forget to taste it before serving as the spices have mellowed out. Don't hesitate to add more spice dunk, cayenne, salt, pepper, and brown sugar to your liking. I like to eat my chili with some freshly made SYD cornbread. Enjoy!
Recipe by
Slap Yo' Daddy BBQ
at https://www.slapyodaddybbq.com/2013/01/texas-style-smoked-chili-adapted-from-johnny-triggs-recipe/