Barbecue Beef Short Ribs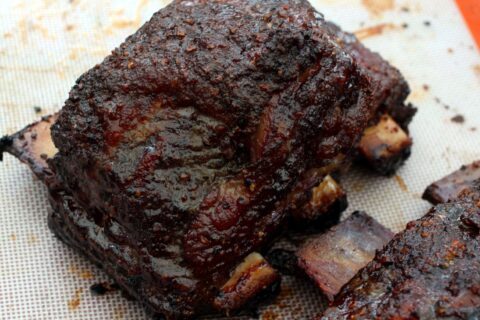 3-bone piece of Choice-grade Beef Short Rib (about 3 ½ lbs)
2 tablespoons Best Foods Mayo
4 tablespoons SYD Hot Rub
1 cup dark brown sugar
1 can Kearn's Mango Nectar
½ cup Grandma's Original Molasses All Natural
Cayenne pepper
½ cup of your favorite barbecue sauce
Trim excess fat cap from the beef short rib.
Rub all the surfaces with Best Foods Mayo. This will help ensure a tacky surface for the rub to stick and it also helps to tenderize the meat
Apply enough SYD Hot Rub on all exposed surfaces until you cannot see the meat underneath (about a medium-heavy coat)
Let sit uncovered in refrigerator for about ½ hour.
Heat up your smoker to 275 degrees. Once it gets to temp, add three tennis-sized chunks of hickory wood and three tennis-sized chunks of apple wood
Smoke the short ribs until the crust or bark is formed, about 2-3 hours. Once the crust starts to form (about 90 minutes), spray the ribs with plain tap water from a spray bottle. Repeat the spraying every 15 minutes.
Once the crust has set, remove ribs from smoker and place in the middle of a sheet of aluminum foil
Sprinkle dark brown sugar evenly on the ribs. Drizzle some Kearn's Mango nectar (about 2 tablespoons) over the ribs. Turn ribs over and repeat the brown sugar and Kearn's on the other side
Wrap the ribs tightly in foil and return to the pit.
Check for tenderness using a bamboo skewer after 45 minutes by opening the foil. The skewer will go through like a muffin when it is done. If not yet tender, close the foil and check in 15 minutes. Keep checking until the meat is probe tender
Remove when done and open the foil to vent (this step is very important else the ribs will overcook).
Once ribs have cooled a bit, remove from the foil pouch. Mix some molasses with the au jus in the foil and brush the molasses/au jus on the ribs. Then apply a thin coat of your favorite barbecue sauce. Give it a dust of cayenne pepper before you slice and serve. Enjoy!