SYD Oink and Squeal Stuffed Pork Chop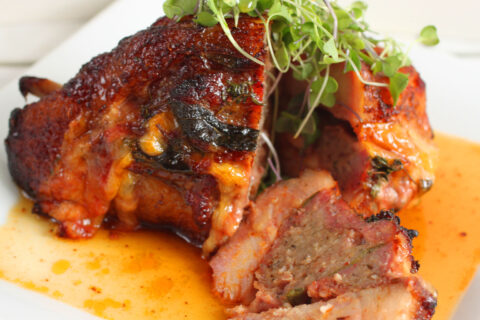 Four 1 ½ inch thick pork chops
2 tablespoons brown sugar
For brine:
1 quart water
½ cup sugar
¼ cup Diamond Crystal Kosher Salt
3 tablespoon SYD Hot Rub
3 garlic cloves lightly mashed
2 tablespoons black peppercorns, slightly crushed in mortar pestle
½ tablespoons fresh thyme, roughly chopped
½ bay leaf
For sausage (alternatively you can use your fav store bought sausage)
1 lb ground pork at least 25% fat content
¼ teaspoon freshly grated ground nutmeg
2 teaspoons SYD Hot Rub
¼ teaspoon white pepper
¼ teaspoon cayenne pepper
1 teaspoon sugar
½ teaspoon pink curing salt (sodium nitrate to give it a characteristic sausage taste; skip this if you like)
For mop:
¼ cup apple juice
1 stick of butter, melted
2 tablespoon brown sugar
Lightly mash garlic with side of heavy knife. Remove garlic peel and rough chop the garlic. Crush the black peppercorns lightly to release their aroma. Remove the leaves from the fresh thyme and rough chop
Place all seven brine ingredients into a gallon Ziploc freezer bag. Add one quart of water and mix well
Make a slit for stuffing the sausage in one side of the pork chop. Put chops into brining bag, press out excess air, and place in fridge for at least one hour but not more than 8 hours. Flip the bag at least once while bag is in the fridge to ensure even brining
Mix sausage ingredients in a bowl. It's best to use freshly ground nutmeg versus the spice bottle version. Cover with saran wrap and refrigerate sausage mixture while you brine your chops
Prepare your smoker for 275 degree cooking. Prepare two tennis-sized apple wood chunks
Remove pork chops from brine and scrape away any brine ingredient adhering to the pork chop. Pat dry
Remove the sausage mixture that was resting in the fridge and divide into four portions for each of your four chops. Stuff the cavity of the pork chop with the pork sausage mixture
Mix some SYD Hot rub with equal parts of brown sugar. Season the stuffed chops with this rub mixture evenly on each side
Put the stuffed chops into your 275 degree pit. Toss a couple of tennis-sized apple wood chunks into the pit to kiss the chops with some sweet apple smoke
Smoke the chops until internal temps in the sausage and the chop is at about 140 degrees, about 45 to 75 minutes depending on your pit and how cold the chops were when you put them in
Remove from pit and place in a ½ aluminum foil pan. Mix the moping liquid and drizzle on top on the chops in the foil pan
Put the foil pan under a kitchen broiler until you get a nice char on the surface of the chops
Flip over and repeat on the other side to get a nice char from your broiler
Remove and let rest 5 minutes. Pour the remaining mop into the foil pan and scraps the bits to make a nice pork jus. Strain if needed and keep foil pan juices warm.
Plate your Oink and Squeal Stuffed Chops and drizzle the foil pan liquids on top. Garnish with some greens and serve hot.
Enjoy!
Recipe by
Slap Yo' Daddy BBQ
at https://www.slapyodaddybbq.com/2013/02/syd-oink-and-squeal-stuffed-pork-chop/