Barbecue Corned Beef Brisket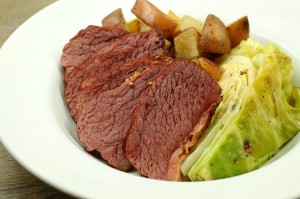 1 piece corned beef (about 3 lbs)
3 red potatoes, cut into pieces
1 head green cabbage
2 tablespoons olive oil
1 tablespoon chopped Italian parsley
1 cup chicken stock, homemade or canned
Remove corned beef from package. Soak in cold water in a container deep enough to submerge the meat. Toss the water after 1 hour. Repeat twice. The number of times you need to repeat this depends on how salty is the brand of corned beef you are using. For the brand I was using, twice was sufficient
Start your pit and stabilize at 275 degrees.
Place the corned beef in the pit and sprinkle the picking spices on top. The spices usually come in a packet with the corned beef.
Smoke the meat until you see a nice shiny sheen, called pellicle, on the surface of the meat, about 2 hours. This sheen is deposited when the carbonyls and phenols infuse the meat with color, flavors, and anti-oxidants (preservatives)
Wrap the corned beef in foil and cook in your 275 degree pit until the beef is probe tender by checking using the metal probe of a thermometer. I used a Thermapen to probe the meat. Don't worry nor look at the meat internal temperature as you are cooking by feel only
At the same time when you foil the corned beef, put some cut-up red potatoes, seasoned with SYD rub, olive oil, and some Italian parsley into a ½ foil pan and place into the pit. If you like your cabbage smoked, you can cut your cabbage into quarters and place them in the same half foil pan.
Remove the smoked cabbage and wrap in foil when they are softened. Add some chicken stock to create some steam to braise the cabbage. Remove and keep warm
Remove the potatoes and keep warm
Once corned beef is tender as probed through the foil, remove and rest 15 minutes.
Cut into slides across the grain and serve with the potatoes and cabbage.
Happy St. Patty's Day!
Recipe by
Slap Yo' Daddy BBQ
at https://www.slapyodaddybbq.com/2013/03/barbecue-corned-beef-brisket/