Homemade Pork Sausages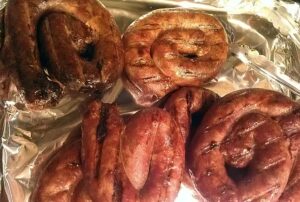 5 lbs medium-grind pork shoulder (grind it yourself or have your butcher do it)
Natural hog casing
6 teaspoons SYD Hot Rub
2 teaspoons freshly ground nutmeg
2 teaspoons freshly ground sage
2 cloves pressed garlic
Remove enough casing from the salt for your needs and soak in water. Rinse the casing and slip it over the sausage stuffing machine. Casing should be wet so it works as a lubricant. Push it back like an accordian pleat
Leave three inches of casing hanging out and then tie a knot
Combine all ingredients, mix well, and stuff into hog casing. Try to season the meat the night before and let it rest in the fridge if you can to let the flavors blend
Smoke in 200 degree pit for about 2-3 hours until internal temp is 165 degrees
Serve immediately, or cool and then refrigerate or freeze.