Japanese Wagyu A-5 Beef Brisket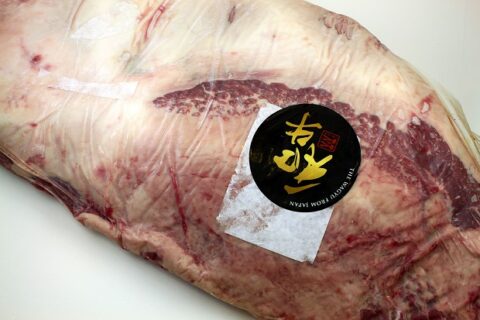 1 very expensive A-5 Japanese Wagyu
4 tablespoons SYD Hot Rub
¾ cup of beef broth
Carefully trim all the fat and silver skin off the top of the flat
Trim all fat off on both top and bottom sides of the point
Square up the sides
Trim the fat cap down so it is an even ½ inch
Sprinkle a medium-heavy coat of SYD Hot Rub on point and flat except the fat cap. Medium-heavy means you apply enough of my rub so that you cannot see the meat underneath the rub. You can add an optional thin layer of cheap yellow mustard before apply the rub to help the rub stick if you like. I did not
Gently pat down the rub. Do not rub the rub into the meat
Leave in the fridge overnight. I could not wait so I left mine in the fridge for only 2 hours
Take it straight from the fridge and place it fat side down into a 250 degree pit. I used Kingford Blue with 4 tennis-sized chunks of hickory and 4 of apple
Once you see the bark start to form, begin spraying with tap water from a spray bottle. I stated spraying mine at Hour-7. Be sure you wet the brisket completely. Repeat every 30 mins
Once the crust sets on your brisket and it passes the fingernail scratch test, remove it and wrap tightly in foil. Mine was ready to be foiled in 9 hours. Your mileage will vary. Add ¾ cup of beef broth in the foil before you wrap it up
Cook until your brisket is probe tender. Do not worry about the internal temperature of the meat. It's ready when a sharp bamboo skewer pokes through the foil and pushes through the flat smoothly like piercing a muffin. NOTE: resist the temptation to read the temperature if you are probing with a Thermapen. Better yet, tape the Thermapen display with blue painters tape
Remove when done and cut open the foil. Let it rest until the internal temp is below 170 degrees. On a warm day this may take 1 hour or more
Separate the point from the flat when it has cooled down. Apply SYD Hot rub to the cut side of the point. Return the point to your 250 degree pit with the cut side down
Spray the flat you separated with tap water and keep the flat warm wrapped in foil set at 150 degrees in the oven. Ensure the convection fan is not on if you're using a convection oven as the air movement will dry out the flat
Remove the point after one hour. Spray the point with water and let it rest wrapped in foil for 15 minutes
Slice the flat across the grain and cube the point. Enjoy!
Recipe by
Slap Yo' Daddy BBQ
at https://www.slapyodaddybbq.com/2013/05/japanese-wagyu-a-5-beef-brisket/