Smoked Ginger Peach Ham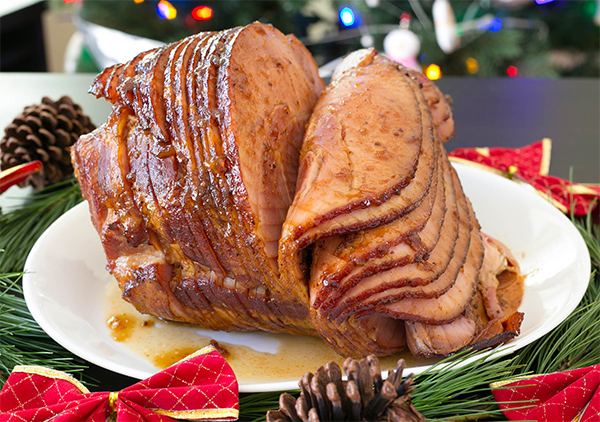 1 fully-cooked, spiral sliced, bone-in ham (about 10 lbs)
Glaze:
2 cups peach jam or preserves
2 teaspoons finely minced fresh ginger
1 cup brown sugar
⅓ cup apple cider vinegar
2 tablespoons spicy brown mustard
2 tablespoon Worcestershire sauce
¾ cup orange juice or water
Unwrap ham and remove any packaging and netting. Rinse ham for 15 seconds under the faucet to remove excess salt. Pat dry with paper towels. Sprinkle a light coating of SYD rub to kick up the flavor.
Heat up kettle with a hot and cool zone. Put a disposable half foil pan under grates on the cool half of the kettle. Add a half inch of water to keep your kettle moist during the cook.
Preheat to 350F with lid closed.
Place ham on cool side of kettle and smoke until internal is about 140F. Add a tennis-sized chunk of wood every 45 minutes (I used two chunks of hickory in the entire cook). You may need to rotate the ham every 45 minutes so it cooks evenly. The cook will take 2-3 hours depending on the size and how cold your ham was when you started. The ham will drip on the foil pan under the grates making cleanup easier.
While the ham is smoking, mix together the glaze ingredients except ginger in a saucepan and simmer over medium heat until thickened. Remove from heat and add the minced fresh ginger. Set aside and keep warm
Baste the ham with the ginger-peach glaze every 30 minutes
Once you have reached 140F, you can move ham over to the hot zone and get some nice char and set the glaze.
Remove ham from kettle and lay it down on a nice plate or serving cutting board. Let the spiral cut slices fan out and brush the glaze all over the ham including between the insides of the slices,
Tent with foil and rest 15 minutes before serving. Serve the glaze on the side.