Coconut Can BBQ Chicken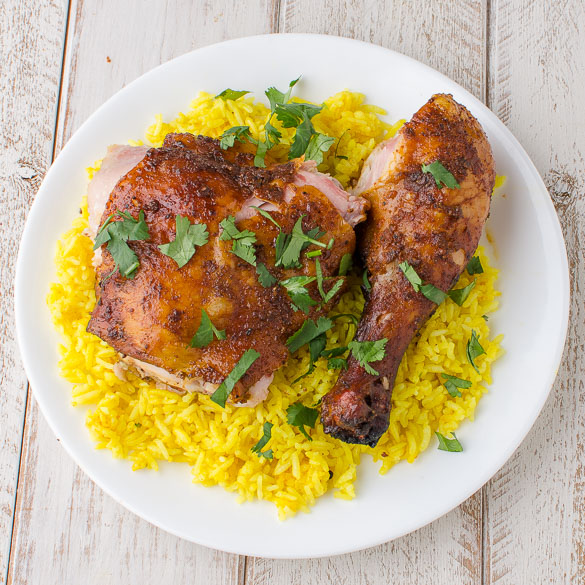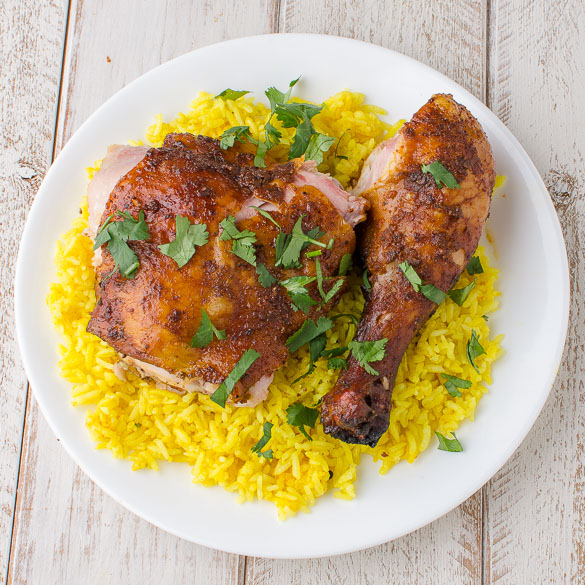 Coconut Can BBQ Chicken
Beer and barbecue is a match made in heaven like cheese and wine. In America, cooking chicken stuffed on top of an upright beer can has a huge legion of fans judging by the scores of
gizmos on Amazon
and dozens of
videos on YouTube
that offer suggestions on how to create the ultimate beer can chicken. Though there's no official history of 'beer can chicken', it certainly seems to be an all American classic as most people agree that it started in the southern states in the 1970s.
A beer can is inserted into the cavity (or butt) and people believe that as the chicken heats up in the oven or grill, the beer in the can begins to evaporate inside the chicken. This steam like effect keeps the chicken moist from the inside while cooking. Others argue this is incorrect because the temperature of the beer inside the chicken never reaches the boiling temperature of water or beer, thus no beer flavor makes its way into the chicken.
No matter the controversy, I like to cook chicken this way because the vertical orientation makes for an unblemished and evenly browned skin that's crunchy and crispy. If you face the dark meat toward the fire in a pit setup for indirect grilling, the dark and white meat cook very evenly without you having to rotate the meat while cooking. More importantly, I find that the oohs and ahhs from guests from the drama of the sensational sight of a perfectly cooked chicken sitting upright in the middle of your dining table is priceless.
In my reinterpretation of this American classic, I chose to use a can of coconut water instead of beer since I wanted a matching liquid as I opted for a spicy Asian coconut milk marinade for the chicken. Because it takes about an hour for the coconut water to reach evaporation temperatures inside the chicken, I jump started the process by preheating the coconut water to a boil. This gave the cavity temperature a head start instead of starting from room temperature. Be careful and use a funnel when you pour the heated coconut water back into the can. I used a mixture of my
1st Place USA Chicken Rub
with some Asian spices to create an exotic twist. The chicken is marinated for at least an hour or overnight in a coconut milk mixture to add flavor and tenderness. If you want to keep it simple, my chicken rub by itself works fabulously well also.
Ingredients


1 whole chicken 4-5 lbs (neck and giblets removed; excess fat trimmed; cavity trimmed to accept can)
6 tablespoons SYD Chicken Rub, divided into two portions
1 teaspoon turmeric powder
1 tablespoon curry powder
2 tablespoon canola oil
⅓ cup coconut milk (let the can sit for 30 minutes and open the top and carefully spoon off the upper ⅓ of the can which is concentrated coconut cream)
1 can coconut water

2 cups long grain rice
3 cups water
1 pinch saffron threads (add threads into ¼ cup boiling water and set aside), or use 1 teaspoon turmeric powder as substitute
½ teaspoon salt
3 table spoons canola oil

Cilantro for garnish
Instructions
Prepare wet marinate mix consisting of 3 tablespoon SYD Chcken Rub + 1 teaspoon turmeric + 1 tablespoon curry powder + 2 tablespoon canola oil + ⅓ cup coconut milk (just the cream part that's on the ⅓ top of the can when you don't shake the can)



When ready to cook, pour the coconut water from the can into a saucepan and heat until boiling. Remove. Carefully transfer the hot coconut water back into the can using a funnel and fill up about ¾ way. Discard excess coconut water. Use caution to not burn yourself. You can also make additional holes on the top of the coconut water can if you like.

Sprinkle the remaining 3 tablespoons of SYD Chicken rub evenly on the chicken. Mount the chicken on the can containing the hot coconut water taking care not to scald yourself.

Cook in 325F pit until done (breast around 155F and thighs around 165F). A 4lb chicken will roughly take 2:45 hours at 225F or 1:15 hours at 325F.

After cooking, remove from pit and place upright on a platter. Loosely tent the chicken.

Rest 15 minutes and then carve and serve.

Serve with some saffron rice cooked in the oven (2 cups long grain rice + 3 cups water + some saffron threads or tumeric + ½ teaspoon salt + 3 tablespoon canola oil). I cooked mine in a 9 x 9 heat proof dish in a 350F oven; about 45-60 minutes until rice has dried out, fluff with fork, add ½ cup water if needed, cover with foil and cook another 10 minutes. Remove, fluff, cover, and keep warm.

Garnish with some cilantro

Get New Updates by Email: