Corporate Training


Fire and Fun Corporate Training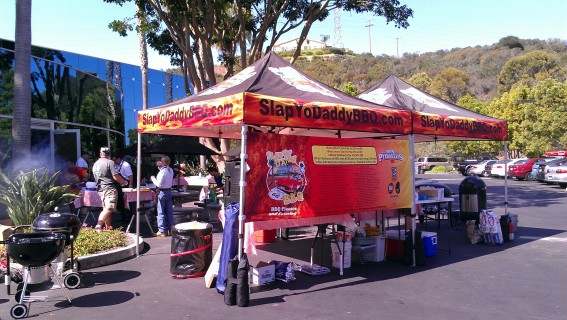 Start Your Barbecue Pits!
Slap Yo' Daddy BBQ's barbecue camp brings the fire and fun of competition BBQ to your organization to develop championship teams.
SYD offers custom programs designed to address your specific needs and goals including Customer Appreciation, Project Management, Sales Force Training, Team Building, and Quality Management.
Harry is one of America's top-ranked Kansas City BBQ Society pitmaster with more than 27 grand championships in the continental US, Canada, Hawaii, and England.  He's a Magna Cum Laude IT graduate of Texas Tech with an MBA from Cal Poly Pomona and is a Certified PMP (Project Management Professional).   He has managed teams responsible for a $40 million portfolio of projects and has a proven 25-year track record of building successful teams in the disciplines of management, marketing, operations, IT, accounting, and sales.
Why is this better than traditional employee training? 
Avoid another "death by PowerPoint" training class.  Energize your employees by getting them outdoors to learn cooking skills that translate immediately to your bottom line.  Your employees will return to work refreshed with better morale, new interpersonal cohesiveness, and enhanced problem solving skills.   These newly acquired cooking skills will also allow your employees to strengthen their family and friends connections following the class.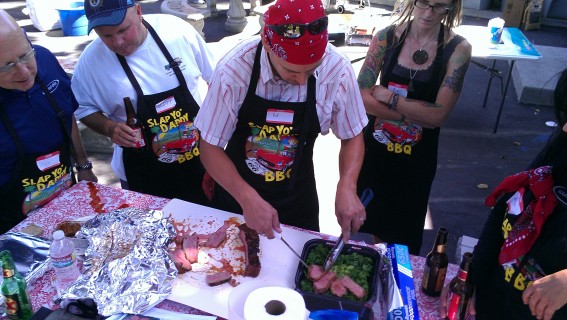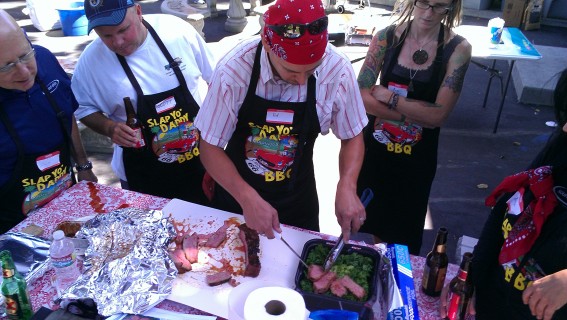 Your employees will enjoy immersing themselves in a venue away from the workplace.  After a short orientation and training session from Harry, your employees get to creatively engage in the following areas:
Planning and Strategy
Time and Budget Management
Quality Management
Personnel Management
Collaboration and Communication
Risk Management
Group Creativity
Having Fun!
Teams must develop a team name, develop goals and strategy, plan the work, and work the plan.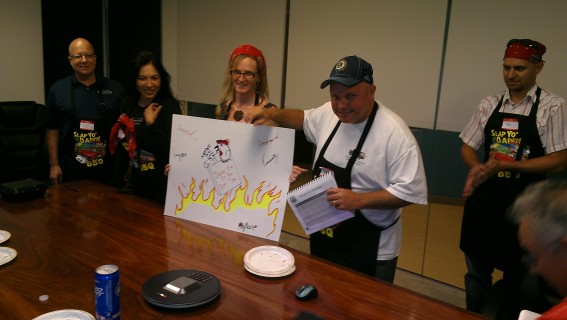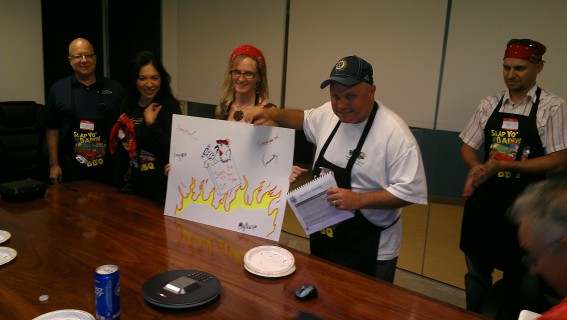 Time and Budget Management
They must manage time and limited raw materials which reflect the reality of corporate deadlines and limited resources.  Competition-style time rules will be utilized and chicken is due at 11:30 and tri tip is due at noon.  Teams have to turn in their meat within five minutes before and after the designated times.   With only 30 minutes between the entries, teams will have to manage their time down to the minute so as not to be disqualified.
Quality Management
Teams must develop high quality processes and final products. Everyone must take responsibility for the final product designed to impress the BBQ judges.
Personnel Management
Teams have to select individual and group roles and responsibilities. Everyone will have a job and the job will be changed between the first and second meat entry.
Collaboration and Communication
Team members will get to know their fellow employees better.   They will be forced to move out of departmental silos and comfort zones.  Teams will need to craft their presentation strategy as the final product will be presented by a team spokesperson.  Team members will have to explore ideas, encourage discussion, and work towards team consensus on how to proceed.  Teams will have 2 minutes to pitch their products to the judges after turning in their meats and 2 minutes to pitch their team prior to the results announcement.
Risk Management
As in the workplace, there are various risk factors as things will go wrong.  Everyone on the team has to be ready to recognize risk during the competition and adjust accordingly.
Group Creativity
Teams must meet group goals from naming their team to deciding their meat turn-in presentation while getting it all done on time and done perfectly in order to win.  To beat the other teams, they must plan, discuss approaches, solve problems, and encourage cooperation among themselves from choosing a team name to spice selection to presentation of final BBQ meats.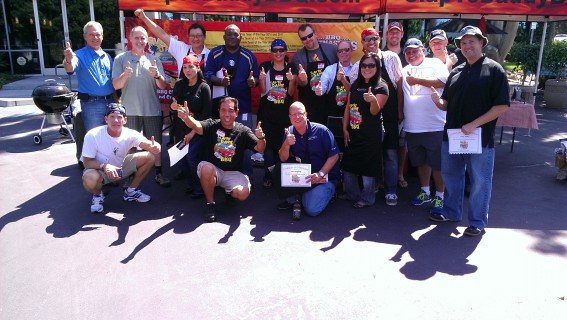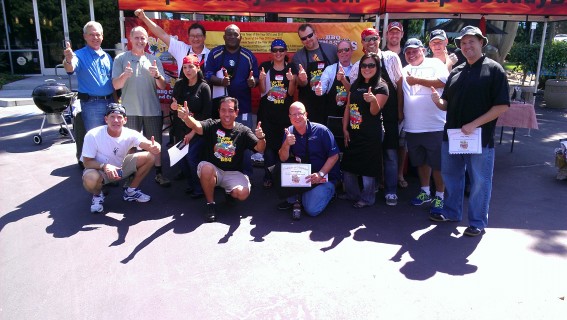 Having Fun!
Slap Yo' Daddy BBQ's barbecue camp will keep your employees engaged and interested from start to finish.  They will be challenged to quickly go through the four phase cycle of teaming, storming, norming, and performing within the class.  They will have to show creativity and problem solving skills, get their hands into raw meat, and learn quickly how to work as a team to win.  In the process, they will have fun, get to know their co-workers better, and cook some great BBQ in friendly competition.  The pressure will be on especially when their CEO is the head judge.
Corporate Messaging:
Here is an example of the course and corporate messaging developed for a client in San Diego which wanted to develop their sales force.   The course focused on the impact the sales group had within their organization.
The impact / reliability of other department upon their efforts.
How they might be more efficient and / or impactful across the business.
How to foster an interest and / or responsibility towards their peers
The end product is a satisfied customer, how we get there requires an understanding  & acceptance of each other and the roles of each dept / process in our business.