General All Purpose BBQ Rub
February 3rd, 2012
Comments Off

on General All Purpose BBQ Rub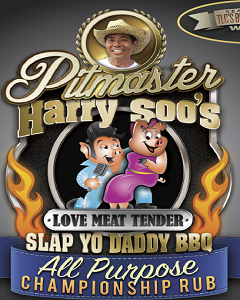 General All Purpose BBQ Rub
If you'd like to make your own rub instead of using my SYD Competition rub, here's my recipe for a pretty decent all purpose BBQ rub.
If you'd like to try my actual competition rub, you can purchase it
here
for a better shipping rate than Amazon where it is also sold. Use the discount code "SYD10″ to get 10% off your entire order. Get my
SYD Hot Competition rub
if you plan to compete as that's what I used to win 20+ Grand Championships. Just add some MSG to my hot rub and you will have a winning secret rub. Use 1 tsp to 18 tsp of my
SYD Hot Competition Rub
.
Ingredients
4 tbsp Kosher Salt
2 tbsp White Granulated Sugar
2 tbsp Brown Sugar
2 tbsp California Mild Chili Powder
2 tbsp Paprika
1 tbsp Ground Cumin
1 tbsp Granulated Garlic
1 tbsp Black Pepper
½ TSP Cayenne Pepper (use sparingly or not at all)
Instructions
Mix all ingredients together
Store in cool dry place
Get New Updates by Email: